The Art of Meditating When Angry: Finding Peace Within
Meditation is a powerful practice that can help calm the mind and find inner peace, even amid anger. By turning inward and focusing on the present moment, we can learn to observe our anger without judgment and let it go. 
This article explores the art of meditating when angry and offers practical tips and techniques to incorporate this practice into daily life. Whether you're dealing with minor annoyances or deep-rooted anger, meditation can provide a sanctuary for your emotions and help you find a sense of tranquility.
Unleash the power of meditation to transform your relationship with anger, and discover how it can lead to greater self-awareness and emotional well-being. Join us as we delve into meditation and explore how it can bring relief and serenity even in the most challenging moments.
Understanding anger and its Consequences for the mind and body
Understanding anger and its consequences for the mind and body is crucial for managing this powerful emotion. Anger is a natural response to various triggers, and when appropriately expressed, it can be a healthy and motivating force. However, chronic or uncontrolled anger can have detrimental consequences.
When we experience anger, the body's stress response is activated, leading to the release of stress hormones like cortisol and adrenaline. This can increase heart rate, blood pressure, muscle tension, and shallow breathing. Over time, chronic anger can contribute to health problems, including cardiovascular issues, weakened immune function, and mental health disorders such as depression and anxiety. 
On the cognitive side, anger can cloud judgment, impair problem-solving skills, and damage relationships. It's essential to recognize and manage anger by practicing techniques like deep breathing, mindfulness, and communication skills to prevent its harmful effects on the mind and body, fostering emotional well-being and healthier relationships.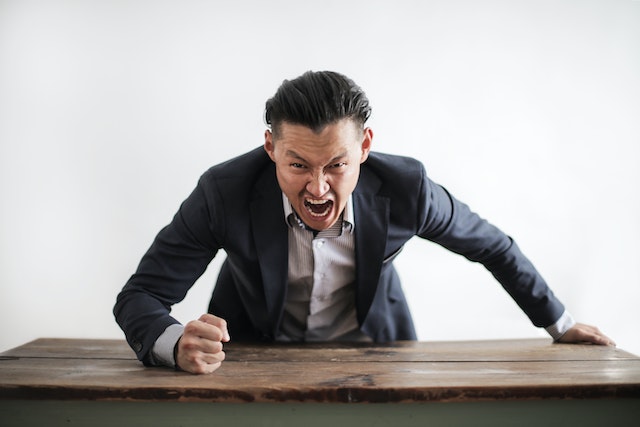 The benefits of meditation for anger management
The benefits of meditation for anger management are profound and can transform how individuals respond to anger triggers and handle this powerful emotion. Meditation offers a range of advantages in this context:
Emotional Regulation
Through meditation, individuals learn to observe their anger without judgment. They become more attuned to their emotional responses, allowing them to recognize anger as it arises. This self-awareness is the first step towards managing anger effectively.
Stress Reduction
Meditation helps lower overall stress levels. By practicing relaxation techniques, such as deep breathing and mindfulness, individuals can reduce the physiological response to anger triggers, including elevated heart rate and blood pressure.
Enhanced Patience
Regular meditation cultivates patience. This increased tolerance helps individuals pause and think before reacting to anger, allowing for a more measured and considered response.
Improved Self-Control
Meditation empowers individuals to exert greater control over their impulses. They become less likely to act impulsively in the heat of the moment, making it easier to manage and channel their anger constructively.
Conflict Resolution
Meditation fosters clarity of thought. This clarity enables individuals to communicate more effectively and resolve conflicts in a healthier, less confrontational manner, reducing the potential for explosive anger outbursts.
Increased Empathy
Meditation fosters feelings of empathy and compassion for both oneself and others. This emotional shift can soften the intensity of anger by promoting a more understanding and forgiving attitude.
Mindfulness in the Moment
Meditation emphasizes living in the present moment. This focus on the now makes individuals less reactive to past grievances or future worries, reducing the emotional charge that often accompanies anger.
Long-Term Positive Change
As a consistent practice, meditation leads to long-term changes in how individuals perceive and manage anger. It helps individuals replace reactive patterns with a more thoughtful, composed, and proactive approach.
Overall Well-Being
Managing anger through meditation contributes to improved mental and emotional well-being. It can alleviate symptoms of anxiety, depression, and other mental health issues that often co-occur with anger problems.
How meditation can help calm the mind during moments of anger
Meditation is a remarkable ally in calming the mind during moments of anger. When anger surges, it often clouds judgment and triggers the body's stress response. Through meditation, individuals can regain control over their emotions by redirecting their focus to the present moment. 
This involves techniques such as deep breathing, where slow, deliberate breaths bring about a physiological shift, reducing the release of stress hormones and calming the nervous system. Additionally, mindfulness meditation encourages individuals to observe their anger without judgment, creating a mental space for more rational and measured responses. 
Meditation trains the mind to be less reactive, providing a buffer between the anger trigger and the emotional response. It helps individuals recognize the transient nature of emotions, including anger, which can mitigate its intensity. 
Ultimately, meditation empowers individuals to pause, reflect, and choose healthier ways to address anger, fostering emotional balance and peaceful resolution in the face of challenging emotions.
Different meditation techniques for anger management
Different meditation techniques for anger management offer a versatile toolkit to help individuals cope with and transcend their anger issues. Mindfulness meditation, a central method, encourages individuals to focus on the present moment, acknowledging anger without judgment and observing it as it arises. This fosters self-awareness and aids in anger management by disengaging from impulsive reactions.
Incorporating deep breathing exercises into mindfulness meditation adds another layer of effectiveness. These controlled breaths slow the heart rate, relax tense muscles, and calm the mind. By addressing the physiological aspects of anger, individuals can mitigate its immediate and intense physical manifestations, allowing for a more composed response to provoking situations.
Loving-kindness meditation is another valuable technique in the anger management toolkit. This practice encourages individuals to develop feelings of compassion, empathy, and goodwill, both for themselves and others. By extending well-wishes and kindness to all beings, individuals foster a sense of interconnectedness and understanding. This heightened sense of empathy enables them to approach anger-inducing situations with a greater capacity for forgiveness and emotional regulation, leading to more harmonious interactions.
Physical practices like yoga and tai chi complement mindfulness techniques by promoting relaxation and reducing stress, crucial aspects of anger management. They stand out for addressing the root causes of anger and enhancing overall well-being, mental clarity, and emotional balance. These practices create a serene inner environment, reducing susceptibility to anger triggers.
Combined meditation techniques offer a holistic approach to anger management, fostering emotional intelligence and self-control. This transformative path leads to healthier relationships, improved self-awareness, and inner peace, facilitating anger issue resolution.
Creating a peaceful meditation space
Creating a peaceful meditation space is an essential aspect of cultivating a consistent and fulfilling meditation practice. This dedicated area serves as a sanctuary where you can retreat from the chaos of daily life and foster a sense of inner calm and mindfulness. When designing your meditation space, consider selecting a quiet and clutter-free location, away from distractions.
Natural light or soft, warm lighting can create a serene ambiance. Comfort is critical, so include a cushion or comfortable chair for sitting. Personal touches, like plants or calming artwork, can enhance the atmosphere. Keep the space well-ventilated and free from electronic devices to minimize interruptions. 
By thoughtfully curating a tranquil meditation area, you set the stage for a more profound and rejuvenating practice, allowing you to connect with your inner self and find peace amidst life's demands.
Setting intentions for your meditation practice
Setting intentions for your meditation practice is a powerful way to enhance its depth and effectiveness. An intention is a specific, positive, and heartfelt statement that defines what you hope to achieve or cultivate during your meditation session. It acts as a guiding light, directing your focus and purpose.
Whether you find inner peace, reduce stress, increase self-compassion, or gain clarity, your intention helps shape your meditation experience. As you meditate, take a moment to reflect on what you seek to accomplish. Your intention is a reminder throughout your practice, gently bringing your thoughts back to your chosen objective when distractions arise. 
This mindful intention-setting not only helps you align your meditation with your personal goals but also deepens your connection to the practice itself, making each session a purposeful step towards greater well-being and self-awareness.
Tips for maintaining a regular meditation practice when angry
Maintaining a regular meditation practice when angry can be particularly challenging, but it's precisely during these emotional moments that meditation can be most beneficial. Here are some tips to help you stay committed to your practice even when anger strikes. Firstly, acknowledge your anger without judgment.
Understand that it's a natural human emotion and a starting point for your meditation. Use your meditation as a safe space to explore and process these feelings. Focus on your breath; deep, slow breaths can help regulate your emotions and calm your mind. If your anger is overwhelming, try to use it as a focus point during your meditation. 
This might involve exploring the physical sensations of anger in your body. Additionally, remind yourself of the benefits of your meditation practice, emphasizing how it can help you manage anger and promote emotional well-being.
Finally, don't be too hard on yourself if you find it challenging to meditate while angry. It's perfectly normal to experience resistance. The key is to persist, as consistent meditation can lead to better anger management and a more peaceful state of mind over time.
Practicing mindfulness and self-compassion during meditation
Practicing mindfulness and self-compassion during meditation is a transformative journey toward greater emotional well-being and self-awareness. Mindfulness, at its core, involves non-judgmental awareness of the present moment, including one's thoughts, feelings, and bodily sensations. 
When integrated into meditation, it encourages individuals to observe their inner experiences without attachment or criticism, fostering a deeper understanding of themselves and their emotions. Self-compassion complements this by encouraging kind and forgiving self-talk, treating oneself with the same care and empathy we often extend to others. 
Together, these practices create a space of non-judgment and kindness, allowing individuals to acknowledge and process their emotions, even challenging ones like self-criticism or anger, with greater clarity and compassion.
Through consistent meditation incorporating these principles, one can gradually build a more resilient and balanced emotional state, ultimately leading to a deeper connection with oneself and the world around them.
Incorporating breathwork and visualization into your meditation practice
Incorporating breathwork and visualization into your meditation practice can significantly enhance the depth and effectiveness of your sessions. Breathwork, often integrated into meditation, emphasizes conscious and controlled breathing patterns. It serves as a bridge between the conscious and subconscious mind, helping to ground and center your awareness. 
Deep, rhythmic breathing can calm the nervous system, reduce stress, and heighten your meditative experience. Visualization, on the other hand, involves creating mental images or scenarios that align with your meditation goals, such as envisioning a peaceful garden, a radiant light, or positive affirmations. 
This not only helps to keep your mind engaged but also brings your intentions to life. Combining breathwork and visualization creates a synergistic effect, allowing you to access deeper states of relaxation and insight while guiding your mind toward the specific outcomes you seek. Together, they can elevate your meditation practice, helping you achieve greater clarity, self-awareness, and emotional balance.
Conclusion: The Art of Meditating When Angry
In conclusion, meditation offers a powerful path to finding inner peace. Through mindfulness, self-compassion, and other techniques, individuals can cultivate emotional self-regulation, clarity, and a profound sense of tranquility.
One can deepen their practice by creating a dedicated meditation space, setting positive intentions, and incorporating breathwork and visualization. Meditation equips us with the tools to navigate life's challenges with composure and serenity, ultimately leading to a more peaceful and balanced inner state.