Starting Your Day Right with Guided Meditation
Wake up to peace, balance, and tranquillity with the power of guided meditation. Losing oneself in the clamour is accessible in the cacophonous symphony of life. But don't let the daunting lullabies of worry and stress carve your mornings. Unfurl your day, enveloped with Sunrise Serenity; a blissful rendezvous with guided meditation to seize the day with boundless energy and a serene consciousness.
The dawn of a new day brings infinite possibilities; each sunrise is an open canvas. What if we told you that a mere 10 minutes of your morning could dramatically influence the rest of your day? When we learn to start our days in tranquillity and mindfulness, we don't just change the texture of our mornings—we revamp our entire lives.
Imagine embracing the day with a calm mind and an empowered spirit, prepared to take on any challenge that comes your way – that's the marvel of starting your day right with guided meditation. Join us as we journey through the mystical world of meditation, painting a perfect sunrise serenity.
The Importance of Starting Your Day Right
Starting your day right sets the tone for your entire day and, inevitably, the quality of your life. When we begin our day on a positive note, it seeps into every experience we have, making us more optimistic, productive, and resilient.
There's a reason why successful people have morning rituals. They understand that the morning hours are the foundation of the day. When we dedicate the first moments of our day to self-care and mindfulness, we create a buffer against stress and negativity.
Guided meditation in the morning can be a game-changer. A dedicated time for mindfulness and introspection can transform how we perceive our world. It enables us to start our day with a clear mind, a calm spirit, and a heart full of gratitude.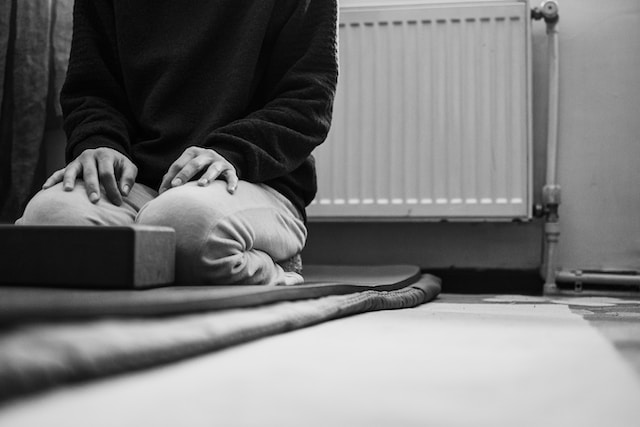 Benefits of Morning Meditation
Morning meditation has many benefits, from enhancing mental clarity to reducing stress. When we meditate in the morning, we become more aware of our thoughts and emotions, which allows us to manage our day better. We become more focused, creative, and attuned to our needs and desires.
Morning meditation also enhances our physical health. Studies show regular meditation can lower blood pressure, boost immunity, and improve sleep quality. It can also reduce chronic pain and lessen the symptoms of various health conditions, including depression, anxiety, and insomnia.
Moreover, morning meditation improves our emotional well-being. It fosters self-compassion, gratitude, and resilience. It helps us cultivate inner peace, allowing us to face our daily challenges with grace and poise.
Guided meditation sessions: Sunrise Serenity
Sunrise Serenity is a guided meditation session to help you start your day with positivity and tranquillity. It combines various meditation techniques, including mindfulness, guided visualization, and mantra meditation.
The session begins with a focus on the breath, followed by a guided visualization of a serene sunrise. The session concludes with a mantra meditation to instil feelings of peace and empowerment.
Sunrise Serenity is suitable for both beginners and experienced meditators. It's a gentle yet powerful way to embrace the day calmly and clearly.
Guided meditation techniques for the morning
Before we conclude, let's explore some popular guided meditation techniques for the morning:
Mindfulness Meditation
This involves focusing on your breath while acknowledging and accepting your thoughts and feelings without judgment.


Guided Visualization
This involves visualizing positive images and scenarios to induce peace and happiness.


Loving-Kindness Meditation
Cultivating Compassion and Love for Self and Others through Focused Practice.

Body Scan Meditation
This involves focusing on different body parts, from your toes to your head, to promote relaxation and awareness.


Mantra Meditation
This involves repeating a mantra or a phrase to focus your mind and promote relaxation.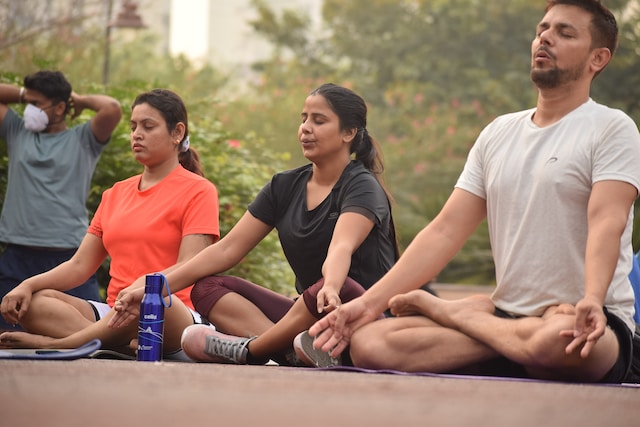 Steps to a Successful Guided Morning Meditation
The beauty of guided meditation is that it's accessible to everyone, regardless of experience. Here are some steps to ensure a successful guided morning meditation:
1. Find a Quiet Space
Choose a space where you won't be disturbed. This could be a corner of your room, a peaceful spot in your garden, or anywhere you feel comfortable and at peace.


2. Choose a Guided Meditation
There are numerous guided meditations available online. Choose one that resonates with you. Ensure it's a suitable length for your schedule.


3. Sit Comfortably
Find a comfortable position. You can sit on a chair, cross your legs on the floor, or recline. The key is to be comfortable but alert.


4. Follow the Guidance
Close your eyes and immerse yourself in the guidance. Let the voice guide your thoughts and visualizations. Don't worry if your mind wanders; it's all part of the process.


5. Be Consistent
Consistency is vital in meditation. Incorporate it into your everyday schedule. Even a few minutes each day can make a significant difference.


Tips for Maintaining Consistency in Morning Meditation
Maintaining consistency in morning meditation can be challenging, especially if you're new to the practice. However, with a few tips and strategies, you can make meditation a non-negotiable part of your morning routine:
Start Small
Don't overwhelm yourself by aiming for long meditation sessions right away. Commence with a few minutes each day, then progressively extend the duration.

Set a Regular Time
Choose a specific time each morning for your meditation. This helps establish a routine and makes it easier to stick to the practice.


Create a Meditation Space
Having a dedicated space for meditation can make the practice more enticing. Make this space a sanctuary of peace and tranquillity.


Use Guided Meditations
Guided meditations are beneficial for beginners. They provide a structure and eliminate the pressure of 'doing it right.'


Be Patient with Yourself
It's normal to have days where meditation seems complicated. Don't judge yourself harshly. Remember, the goal is not to empty your mind but to become aware of your thoughts.


The Impact of Guided Meditation on Stress and Anxiety
Guided meditation has been proven to reduce stress and anxiety significantly. It does so by shifting our body's response to stress, helping us relax and manage our emotions better.
Meditating activates our body's relaxation response, which slows our heart rate, lowers our blood pressure, and reduces our stress hormones. We become more present, which allows us to respond to stressors more effectively rather than reacting impulsively.
Moreover, guided meditation fosters mental resilience. It strengthens our ability to cope with stress and bounce back from adversity. It becomes a tool for self-care, enabling us to navigate our lives with more calmness and clarity.
How to Incorporate Guided Meditation into Your Daily Routine
Incorporating guided meditation into your daily routine doesn't have to be complicated. Here are some tips to make it a seamless part of your day:
Make It a Priority: Treat meditation as an essential part of your day. Prioritize it like you would any other important activity.


Use Reminders: Set reminders on your phone or calendar to meditate each morning. This can help you establish consistency.


Combine It with Other Activities: You can combine meditation with morning activities, such as coffee or stretching. This can make the practice more enjoyable and easier to stick to.


Stay Flexible: Don't be rigid about your meditation practice. If you miss a day or two, don't beat yourself up. The key is to return to the practice without judgment.


Experiment with Different Guided Meditations: Numerous types of guided meditations are available. Explore various options to discover which one suits you best.

Overcoming common challenges in morning guided meditation
Finally, let's address some common challenges in morning guided meditation and how to overcome them:
Difficulty Concentrating: If you find it hard to concentrate, don't worry. It's normal, especially for beginners. The key is to bring your focus back whenever your mind wanders gently. With practice, your concentration will improve.


Feeling Sleepy: If you feel sleepy during meditation, try sitting more upright. You can also try meditating with your eyes slightly open.


Lack of Time: If you don't have enough time to meditate, remember that even a few minutes can make a difference. Begin with a short duration and progressively extend the time dedicated to your meditation practice.

Not Feeling Immediate Results: Meditation is a practice, and its benefits accumulate over time. Exercise patience with yourself and strive for a consistent effort.


Finding It Boring: If you find meditation boring, try different guided meditations or techniques. Discover a meditation practice that resonates with you.
Remember that the journey of meditation is a personal and individual experience. But about embracing the process with patience and self-compassion. Here's to a trip to Sunrise Serenity and a life of peace and fulfilment!
Conclusion
Starting your day with guided meditation can truly transform your life. It's a simple yet powerful practice that can enhance your mental, emotional, and physical well-being. It brings a sense of calm and clarity to your day, empowering you to navigate your life with more grace and resilience.
Remember, consistency is vital. Make meditation a non-negotiable part of your morning routine. Embrace the tranquillity of the morning, and let it permeate your day. Here's to a life of Sunrise Serenity!