Can I Meditate Lying Down? An In-depth Analysis
Can lying down be the key to unlocking a more profound meditation experience? Welcome to our in-depth analysis that explores the unconventional but intriguing question: "Can I meditate lying down?"
Contrary to the archetypal image of meditation—an individual seated cross-legged, eyes closed in serene concentration—meditating in a repose position has sparked curiosity amongst novices and seasoned practitioners alike. Propelled by unruly schedules, chronic discomfort, or mere curiosity, many seekers are tossing out the rule book and finding their Zen horizontally.
Unearth the principles of traditional practice, discover scientific endorsements for supine meditation, and witness the relaxing effects of gravity working its magic on our entire being through this inclusive discussion. Prepare to challenge conventions, discover personal comfort, and perhaps even redefine your meditation journey.
Understanding the Traditional Meditation Posture
In traditional meditation, the image often comes to mind is a tranquil figure seated cross-legged in a lotus or half-lotus position, back upright and closed. This posture is known as the "sukhasana" or easy pose in yoga, which is said to induce tranquility and deep concentration. The upright and balanced posture encourages the flow of energy, or prana, throughout the body, fostering a state of calm and focus. This position also aligns the seven chakras, promoting balance and harmony within the body and mind.
However, the traditional seated posture has its challenges. It requires a degree of flexibility and can cause discomfort, especially for beginners or those with physical limitations. Maintaining this position for extended periods can result in physical strain, distracting from the meditative experience. Moreover, finding a quiet, interruption-free environment to sit cross-legged can be challenging for those with busy schedules.
Given these potential hurdles, it's no wonder that alternative postures, such as lying down, are gaining traction. These unconventional positions offer a degree of comfort and accessibility that traditional postures may not, opening the door to the transformative power of meditation for a broader audience.
Can I Meditate Lying Down?
The answer to this question is a resounding yes! There's no hard and fast rule that meditation must be performed seated. The Buddha himself is often depicted meditating in a reclining position. The goal of meditation is to cultivate mindfulness and presence, which can be achieved in any posture that allows for comfort and focus.
Moreover, meditating while lying down can be particularly beneficial for those who struggle with physical discomfort during seated meditation. It can also be a practical choice for those who wish to meditate before sleep or upon waking, as it allows for a seamless transition between states of consciousness.
However, it's important to note that lying down in meditation may not suit everyone. For some, the comfort of lying down may be too conducive to sleep, making it difficult to maintain the alertness required for effective meditation. It's a delicate balance of relaxation and awareness that may take some practice to perfect.
Pros and Cons of Meditating Lying Down
Like any meditation posture, lying down has its advantages and drawbacks. One of the main benefits is the level of comfort it provides. For those with chronic pain or mobility issues, lying down can provide a way to meditate without additional physical stress. This position is also ideal for nighttime meditation practices, such as body scans or progressive muscle relaxation, which can promote better sleep. Additionally, lying down can make focusing on the breath and body sensations easier, enhancing the meditative experience.
On the downside, the risk of falling asleep is higher when meditating in a prone position, especially for tired or practicing in a warm, cozy setting. This might undermine the goal of maintaining conscious awareness throughout the session. Additionally, those with certain health conditions, such as sleep apnea or acid reflux, may find lying uncomfortable or unsafe.
Another potential drawback is the societal perception of lying down. In many cultures, lying down in public spaces is seen as inappropriate or lazy, which could make some practitioners feel self-conscious or judged. However, it's important to remember that meditation is a personal journey, and the choice of posture should be based on what serves you best.
Techniques for Meditating Lying Down
Meditating while lying down can involve various techniques similar to seated meditation. One popular method is the body scan, where the practitioner mentally scans each part of the body, noting sensations without judgment. This technique is particularly effective when lying down, as it allows for a heightened awareness of the body's contact with the surface beneath.
Another technique that works well in the supine position is progressive muscle relaxation. This involves tensing and releasing each muscle group, promoting physical relaxation and reducing stress. Breath awareness is another common practice, where the focus is on observing the natural rhythm of the breath, fostering a sense of calm and presence.
For those who struggle with sleepiness during lying down meditation, techniques for maintaining alertness can be helpful. These might include opening the eyes slightly, incorporating some movement (like finger tapping or toe wiggling), or using a more engaging meditation object, such as a complex visualization or mantra.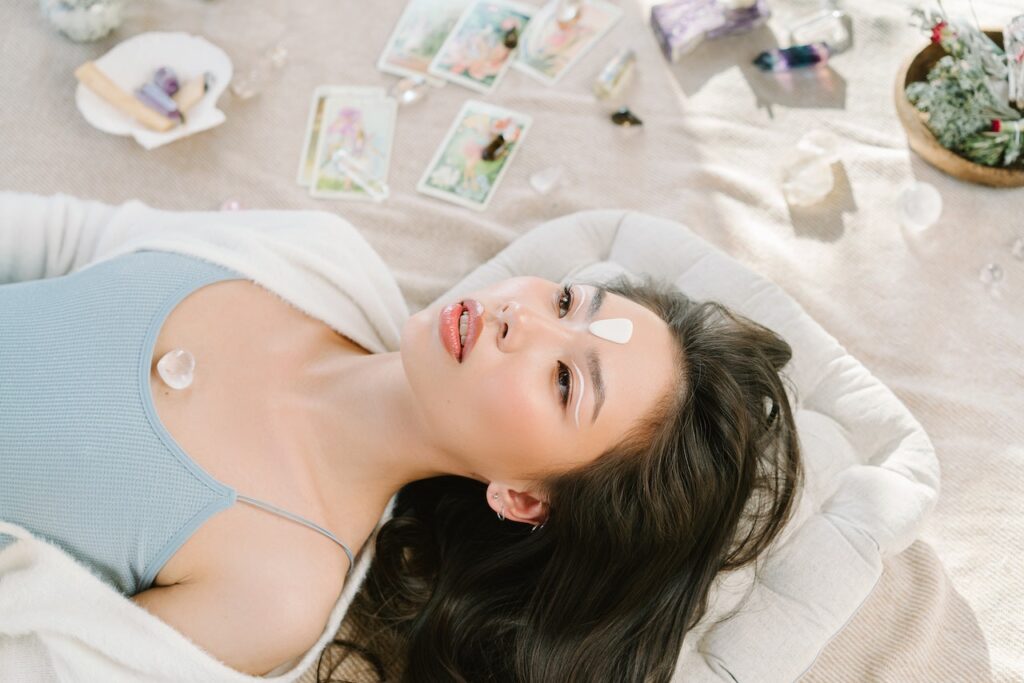 The Best Positions for Lying Down Meditation
While lying-down meditation is generally more comfortable than seated meditation, finding the right position can make a significant difference in the quality of the practice. The most common position in yoga is the savasana or corpse pose, where one lies flat on the back with the arms and legs slightly spread apart. A small pillow or rolled-up blanket under the knees can help alleviate lower back tension.
The semi-supine position might be a good alternative for those who find lying flatly uncomfortable. This involves lying on the back with the knees bent and feet flat on the floor, which can relieve pressure on the lower back. Side-lying positions can also be comfortable for some, especially pregnant women or people with breathing difficulties.
While comfort is crucial, it's equally important to maintain a posture that promotes alertness. To avoid falling asleep, keeping the arms slightly away from the body and the palms facing up can be helpful. This openness can aid in maintaining consciousness and prevent rolling over into a sleep position.
Tips for Successful Lying Down Meditation
While lying down meditation offers many benefits, it can also present unique challenges. To reap the full benefits of this practice, it's important to approach it with the same discipline and intentionality as seated meditation. Here are a few tips for a successful lying-down meditation session:
Choose a firm surface: While it might be tempting to meditate on a soft bed or couch, a firmer surface like a yoga mat or carpeted floor can help maintain alertness and prevent sleep.
Use props: Pillows, bolsters, or blankets can provide support and comfort, enhancing the meditative experience. However, avoid creating a too cozy setup, as it might induce sleep.
Maintain good posture: Even though you're lying down, it's essential to maintain a straight and symmetrical posture, just like in seated meditation. This enables proper energy flow and helps maintain focus.
Practice regularly: Like any skill, meditation requires regular practice. Whether you meditate lying down or seated, consistency is key to experiencing the full benefits of the practice.
When to Choose Lying Down Meditation
While lying down meditation can be a wonderful practice for anyone, it can be particularly beneficial in certain situations. For those with physical discomfort or limitations that make seated meditation difficult, lying down can provide a more accessible alternative. It can also be an excellent choice for those seeking to incorporate meditation into their bedtime routine, as it can facilitate a smooth transition into sleep.
However, lying down on meditation may not be the best choice for everyone. A seated or standing posture might be more suitable for those prone to drowsiness. Similarly, for those who associate lying down with sleep, this position might not provide the alertness needed for effective meditation. As always, listening to your body and choosing a posture that best serves your needs and goals is important.
Common Misconceptions About Lying Down Meditation
Despite its growing popularity, lying-down meditation is surrounded by several misconceptions. One common myth is that lying-down meditation is less effective than seated practice. However, the effectiveness of meditation depends more on the practitioner's level of presence and focus than the physical posture. A focused and mindful practice can yield profound benefits, whether seated or lying down.
Another misconception is that lying down meditation is just a fancy term for napping. While the two can look similar from the outside, the intention behind them is vastly different. While napping aims to fall asleep, lying down meditation is to cultivate conscious awareness while the body is at rest.
A third myth is that lying down meditation is only for those who can't sit. While it's true that this position can be more accessible for those with physical limitations, it's not exclusively so. Many seasoned meditators practice lying down for its unique benefits, such as a deeper sense of relaxation and a heightened awareness of body sensations.
Conclusion
In conclusion, lying down can be a viable and beneficial posture for meditation. While it might not replace the traditional seated posture, it offers a valuable alternative for those seeking comfort, accessibility, and a different perspective on their practice. As with any meditation, the key is approaching it with an open mind, a patient heart, and a commitment to self-discovery. Whether you meditate sitting, standing, or lying down, remember that the journey is more important than the destination. If you have any questions, feel free to contact us. Happy meditating!
FAQs
Can I meditate while lying down?
Yes, you can meditate while lying down. However, it's important to maintain awareness and avoid falling asleep.
Is meditating lying down effective?
Meditating lying down can be effective for relaxation and stress reduction, but sitting or other upright positions are often recommended for better focus.
How do I prevent falling asleep while meditating and lying down?
To avoid falling asleep, choose a comfortable but slightly alert posture, use props for support, and practice in a well-lit room.
Are there any benefits to meditating lying down?
Lying down meditation can promote physical relaxation, ease pain, and help individuals with mobility issues engage in meditation.
Can lying-down meditation replace traditional seated meditation?
Lying down meditation can complement seated meditation, but the latter is often preferred for maintaining alertness and deeper focus during practice.