Embrace the Quiet: A Step-By-Step Guide to Perfecting Night Meditation
Welcome to our step-by-step guide on Night Meditation. As our world buzzes relentlessly with distractions and demands, more people use this soothing practice to navigate their lives with clarity and calmness.
Whether you are a seasoned meditator or a newbie curious about the power of nocturnal introspection, this straightforward guide answers the call. By embracing the tranquillity of the darkened hours, you'll learn to transcend the day's chaos and forge a deeper connection with your inner self.
Wrap the dusk around you and enter a world where stillness speaks volumes, teaching you to hear the whispers of your very essence. Let's embark on this journey together, embracing the quiet through Night Meditation. 
Understanding Night Meditation
Night meditation, also known as nocturnal meditation, is a practice centred around harnessing the tranquillity and peace of the nighttime. It's not merely about meditating at night; it is about embracing the silence, darkness, and calm that the night naturally brings. This unique environment often aids in deepening the meditative experience, fostering a profound connection with the self.
The core concept of night meditation is introspection. As the world around you sleeps, you can dig deeper into your mind, unhindered by the distractions that daylight often presents. It is about exploring your thoughts, feelings, and experiences and understanding them in a new, clearer light.
It's important to remember that night meditation is not a different type of meditation. It's simply practising meditation at night under the unique conditions that the night provides. It can involve any traditional meditation technique, such as mindfulness, loving-kindness, or transcendental meditation.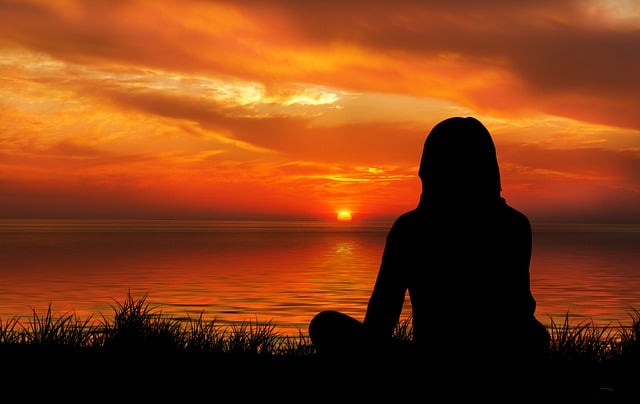 Science Behind Night Meditation
Scientifically, night meditation has been shown to impact the brain profoundly. Numerous studies have indicated that night meditation can significantly improve sleep quality, reduce stress, and enhance overall mental health.
One of the critical reasons for this is the effect of meditation on the brain's alpha waves. Alpha waves are associated with relaxation and calmness. When we meditate, the production of these waves increases. This is especially pronounced during the night when external stimuli are minimized.
Furthermore, night meditation has been shown to impact the production of melatonin – a hormone that regulates sleep. By helping to increase melatonin levels, night meditation can significantly improve the quality and duration of sleep. This, in turn, can lead to improved cognitive function, reduced stress, and better overall health.
Benefits of Night Meditation
The benefits of night meditation are numerous, extending beyond mere sleep improvement. By dedicating quiet, uninterrupted time to introspection, you can cultivate a greater awareness of yourself, your emotions, and your thoughts. This enhanced self-awareness can lead to greater emotional intelligence and improved mental health.
In addition, night meditation can help to reduce stress and anxiety. The calming effect of meditation and the night's peacefulness can help calm the mind and relax the body. This can profoundly impact mental health, helping to alleviate symptoms of stress, anxiety, and depression.
Lastly, night meditation can foster a deeper connection with the self. By meditating in the stillness of the night, you can learn to listen to your inner voice, understand your own needs and desires, and cultivate a more profound sense of self-understanding and self-love.
Preparing for Night Meditation
Preparing for night meditation involves creating a conducive environment, establishing a routine, and adopting a receptive mindset. Find a quiet, comfortable space where you won't be disturbed. This could be your bedroom, a spare room, or even a peaceful spot in your garden.
Next, establish a routine. Decide on a specific time each night for your meditation practice. Consistency is key here. A routine helps train your mind and body to anticipate and prepare for meditation, making the process more effortless.
Lastly, adopt a receptive, non-judgmental mindset. Meditation is not about achieving a particular state but observing and accepting whatever arises. This mindset will help you to embrace the experience of night meditation fully.
Night Meditation Routine
Perfecting night meditation involves setting an intention, focusing your attention, and practising acceptance. 
Set an intention for your practice. This could be anything from cultivating self-love to reducing stress. Your intention will guide your training and give it purpose.
Focus your attention. The goal is to concentrate your mind on a single focal point. This could be your breath, a mantra, or even the sensations in your body. Whenever your mind wanders, gently bring it back to your focus point.
Practice acceptance. If your mind wanders, and that's okay. The goal of meditation is not to empty your mind but to observe and accept whatever arises without judgment. This acceptance is crucial in deepening your meditation practice.
Step-by-step Guide to Night Meditation
Choose a quiet, comfortable space for your meditation.
Establish a regular meditation routine, choosing a specific time each night.
Set an intention for your practice.
Select a central point to focus your attention, whether your breath or a chosen mantra.
Practice acceptance, observing, and accepting whatever arises during your meditation.
Use meditation aids or techniques as needed, such as guided meditation apps or mantras.
Be patient with yourself, understanding that progress can take time.
Maintain consistency, meditating at the same time each night.
Create a pre-meditation routine to prepare your body and mind for meditation.
Enjoy the journey of self-discovery and personal growth that night meditation offers.
Common Challenges and How to Overcome Them
Like any new practice, night meditation can present particular challenges. These might include difficulty focusing, restlessness, or even falling asleep during meditation. Understanding that these challenges are common and can be overcome with patience and practice is essential.
If you're having difficulty focusing, try using a meditation aid, such as a guided meditation app or a mantra. These can anchor your mind and make it easier to maintain focus. If you're feeling restless, try incorporating gentle yoga or stretching before your meditation. This can help to calm your body and prepare it for meditation.
If you notice yourself nodding off during meditation, rest assured, as this is commonplace, particularly among beginners. Try sitting up straight during your meditation rather than lying down. Try meditating earlier in the evening when you're not quite as tired.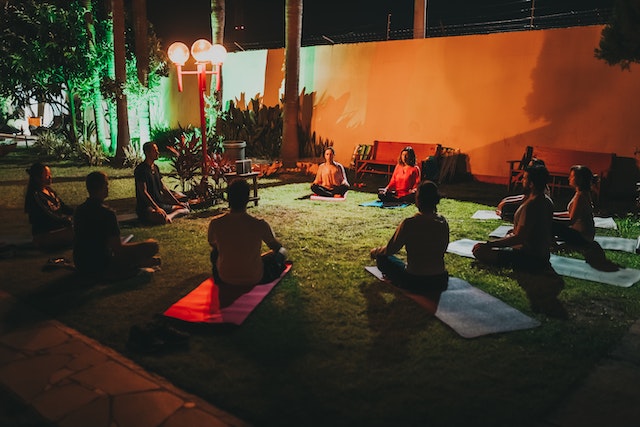 Meditation Techniques for Better Sleep
Several meditation techniques can enhance sleep quality. One of the most effective is mindfulness meditation. This entails directing your attention to the current moment and embracing it without passing judgment. By calming the mind, mindfulness can reduce stress and anxiety, often the root causes of sleep problems.
Another effective technique is guided imagery. This involves visualizing a peaceful, relaxing scene, such as a beach or a forest. This can help to calm the mind and body, preparing them for sleep.
Finally, body scan meditation can also be effective for sleep. This involves mentally scanning your body from head to toe and observing any sensations without judgment. This can help to relax the body and prepare it for sleep.
Maintaining a Consistent Night Meditation Routine
Consistency is vital when it comes to night meditation. Establish a routine by aiming to meditate at a consistent time each night. This helps to train your body and mind to anticipate and prepare for meditation. It can also be helpful to create a pre-meditation routine, such as taking a warm bath or drinking a cup of herbal tea. This can signal your body that it's time to wind down and prepare for meditation.
It's also important to be patient with yourself. Meditation is a discipline that requires time, and results may take time to be evident. Stay persistent, and be reassured if you don't experience immediate benefits. Instead, focus on the process and the experience of meditation. With time, you'll likely notice subtle changes in your mood, stress levels, and overall well-being.
Conclusion
In conclusion, night meditation is a powerful practice that can enhance sleep quality, reduce stress, and foster a deeper connection with the self. By embracing the quiet of the night, you can create a space for introspection and self-discovery.
Keep in mind that the meditation journey is unique to each individual. There is no definitive right or wrong way to engage in it. The most important thing is to find a practice that works for you and stick with it. With consistency and patience, night meditation can become a transformative part of your daily routine.