The Power of Meditation in the Workplace: Unlocking Human Potential
The Power of Meditation in the Workplace: In the dynamic, high-pressure environment of the modern workplace, the quest for strategies that enhance employee well-being and productivity has never been more imperative. In this bustling, technology-driven era, where the lines between work and personal life blur and the pace of change are relentless, employees often navigate an intricate labyrinth of stress, expectations, and the ever-elusive quest for balance.
In this context, one age-old practice has been gaining remarkable recognition as a beacon of hope amid the chaos—meditation. Meditation isn't a recent fad or a fleeting trend; it's a timeless and profound practice rooted in the annals of human history. Its resurgence in modern workplaces speaks to the very essence of our human nature, yearning for a deeper connection, serenity, and a sense of purpose in the professional realm.
But why is meditation important in the workplace, and how can it contribute to forging a healthier, more productive workforce? These are the questions that this article will delve into, shedding light on the significant impact that meditation has on individual and collective well-being within the realm of work. In this article, we'll explore the profound benefits of meditation and why it resonates so deeply with our human nature in the world of work.
The Stress Epidemic
The modern workplace is no stranger to what can aptly be described as a stress epidemic. The relentless demands of the daily grind have given birth to a culture of perpetual busyness, where employees often find themselves trapped in a ceaseless loop of tasks, deadlines, and responsibilities.
The consequence of this demanding routine is an ever-mounting pressure, leading to heightened stress levels that infiltrate both the professional and personal domains. This pervasive stress affects individuals' mental and emotional well-being and physical health. 
The workplace, initially designed as a platform for productivity and growth, has, for many, transformed into a breeding ground for anxiety and burnout. In such an environment, the importance of meditation emerges as a powerful counterforce, offering employees a sanctuary of respite, a momentary escape from the unrelenting daily grind.
Meditation is an oasis of stillness in the whirlwind of deadlines and constant connectivity, providing a path to reconnection with oneself and a much-needed reprieve from the chaos that characterizes the modern work landscape.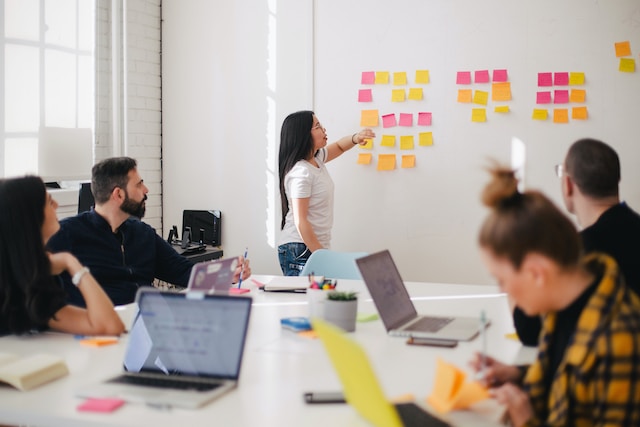 The Mind-Body Connection
The mind-body connection is a fundamental aspect of human existence, and meditation taps into this profound relationship in the workplace. Through meditation, employees embark on a journey of self-discovery and self-regulation. It encourages them to cultivate a heightened sense of self-awareness, an attribute often overlooked in the hustle and bustle of professional life.
This enhanced awareness serves as the foundation for mental clarity. It enables employees to declutter their minds, prioritize tasks with focus and efficiency, and make well-informed decisions. With improved mental clarity, they can navigate the complex challenges of the workplace with a sense of purpose and confidence.
Meditation's influence extends beyond the mind and resonates within the physical realm. Scientific research has unveiled the remarkable connection between meditation and physical health. Regular meditation practice has been linked to reduced blood pressure, bolstered immune system function, and even improved pain management.
 In our human experience, well-being isn't confined to thoughts and emotions; it's intrinsically tied to physical health. By prioritizing physical health through meditation, employees are enhancing their mental fortitude and fortifying their bodies to withstand the demands of their professional lives. Meditation thus serves as a holistic approach to achieving a harmonious mind-body balance in the workplace.
Building Resilience and Creativity
In the crucible of the modern workplace, resilience is a prized attribute. The daily challenges, setbacks, and pressures sometimes seem like a barrage of tests. Meditation emerges as a catalyst for nurturing resilience. It encourages employees to embrace a growth mindset, where they perceive obstacles not as insurmountable hurdles but as opportunities for learning and personal growth. 
By practicing meditation, individuals develop the mental fortitude to bounce back from adversity with renewed vigor. It equips them with the emotional and psychological tools to confront challenges head-on, instilling a profound sense of resilience essential in the dynamic world of work.
Creativity is the lifeblood of innovation in the workplace. Amidst the relentless demands of professional life, finding room for creative thinking can be daunting. Meditation, however, acts as a key to unlocking creativity. By silencing the clamor of the mind, it provides a quiet space where employees can tap into their inner reservoirs of creativity.
In this tranquil mental environment, the mind can wander, explore uncharted territories, and think beyond conventional boundaries. Through meditation, individuals gain the mental freedom necessary to conceive inventive solutions, fostering an atmosphere of innovation essential for success in today's competitive work landscape.
Boosting Productivity
Sharpening Focus
Productivity is the lifeblood of a thriving workplace, and meditation is a potent tool for sharpening focus. Maintaining unwavering attention to tasks can be an uphill battle in an era characterized by constant distractions and information overload. Meditation, however, acts as a mental gymnasium where employees can precisely train their minds to focus.
By cultivating mindfulness and practicing concentration, they enhance their ability to immerse themselves in the task. The result is improved productivity as they navigate their responsibilities with heightened clarity and purpose. In the hustle and bustle of the professional world, meditation is a refuge where employees can recalibrate their focus, ultimately contributing to a more efficient and productive workforce.
Reducing Absenteeism
Stress-related illnesses and burnout are common culprits behind absenteeism in the workplace. The toll of excessive stress can lead to a range of health issues, making it difficult for employees to show up for work consistently. Meditation, however, functions as a potent stress reducer. Employees who incorporate meditation into their daily routines become better equipped to manage and alleviate stress.
The physical and mental benefits of meditation result in fewer sick days taken by employees, creating a healthier, more vibrant workforce. In this sense, meditation becomes an indispensable asset for employers, not just in terms of increasing productivity but also in reducing absenteeism and its associated costs. A healthier, happier workforce translates to a more reliable and present one, contributing to the organization's overall success.
Fostering a Positive Workplace Culture
A positive workplace culture is the cornerstone of a thriving and harmonious organization. Within this culture, the seeds of empathy and teamwork are essential, and meditation is a powerful catalyst for cultivating these vital attributes. As employees embark on their journeys of self-discovery through meditation, they naturally become more attuned to their colleagues' emotions, needs, and perspectives.
This heightened emotional intelligence allows them to connect with their co-workers on a deeper level, fostering a sense of empathy integral to a positive work environment. Empathy transforms the workplace from a sterile, transactional space into a supportive community where individuals genuinely care about one another.
Moreover, meditation encourages individuals to transcend their egos and prioritize the collective good. This shift in perspective is crucial for teamwork, as employees learn to place collaboration above competition. The practice of mindfulness invites them to be fully present with their team members and to actively listen and engage in a way that fosters effective communication and cooperation.
By doing so, meditation enhances individual well-being and contributes to a workplace culture where empathy and teamwork are the pillars upon which success is built. In such an environment, employees become colleagues and allies on a shared journey toward professional and personal growth.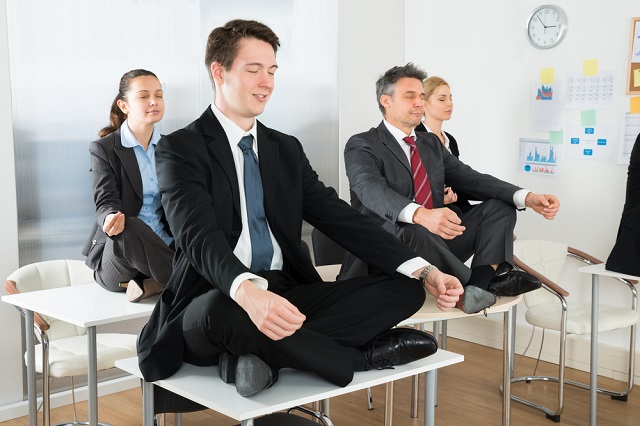 The Power of Mindfulness
Living in the Present
Mindfulness, the art of being fully present at the moment, possesses a profound and transformative power that resonates deeply in the workplace. Mindfulness is a much-needed anchor in the relentless whirlwind of professional life, where deadlines and plans often dominate our thoughts.
It invites employees to pause and savor the richness of the present, to immerse themselves in the tasks at hand with unwavering attention. By living in the present, employees can elevate their work to a higher level of engagement, creativity, and productivity. Mindfulness empowers individuals to appreciate the simple beauty in each moment, fostering a sense of gratitude that can make a difference in the fast-paced work environment.
Developing Self-Awareness
Self-awareness is the compass that guides us in the quest for personal and professional growth. As a practice of deep introspection, mindfulness plays a pivotal role in nurturing this essential attribute. It encourages employees to turn their gaze inward to explore the intricate landscape of their thoughts, emotions, and behaviors.
This journey leads to a heightened self-awareness, where individuals become more attuned to their strengths, weaknesses, and values. This enhanced self-awareness is invaluable for making informed decisions, setting meaningful goals, and building more authentic relationships with colleagues. In the workplace, it's not just about what we do but also how we do it.
The self-awareness cultivated through mindfulness is the cornerstone for making positive, purpose-driven contributions to the professional arena, ultimately leading to more tremendous personal and collective success. The power of mindfulness transcends the workplace, reaching into all aspects of our lives and serving as a potent means to achieve a deeper level of self-realization and fulfillment.
Implementing Meditation in the Workplace
The integration of meditation into the workplace involves thoughtful design and foresight. One fundamental aspect is the creation of dedicated meditation spaces. These spaces are sanctuaries where employees can step away from the hustle and bustle of their daily routines and immerse themselves in meditation.
A well-designed meditation space provides an environment that promotes serenity and focus, helping employees easily transition into a state of mindfulness. Equipped with comfortable seating, soft lighting, and perhaps soothing decor, these spaces serve as a respite from the workday's demands, offering a tranquil oasis where employees can practice meditation and find inner calm.
Meditation, while accessible and beneficial, can be more effective when accompanied by training and resources. Employers can invest in providing meditation guidance or training sessions, either through in-house instructors or external experts. These sessions help employees learn the basics of meditation, various techniques, and how to incorporate the practice into their daily routines.
Additionally, resources such as meditation apps, articles, or books can be made available to employees, allowing them to explore meditation at their own pace and on their terms. By offering both training and resources, employers empower their workforce with the knowledge and tools needed to harness the full potential of meditation, promoting a healthier and more focused work environment.
Conclusion
Meditation in the workplace is not a mere trend; it's a profound tool for unlocking human potential. Its significance extends to stress reduction, the mind-body connection, resilience, creativity, productivity, and fostering a positive workplace culture. In the clamor of the modern work environment, meditation provides a harmonious haven where employees can explore their inner selves, enhance their well-being, and become more effective, mindful contributors to their organizations.
It's a practice that aligns with our fundamental human needs, and its impact is felt not only by individuals but also by the collective energy of the workplace. As the future of work unfolds, the importance of meditation remains steadfast, guiding us toward a more balanced, focused, and fulfilled professional journey.