Why Do I Shake While Meditating? Mind-Body Connection
Why Do I Shake While Meditating? In a world perpetually in motion, meditation is a sanctuary that promises serenity, mental clarity, and refuge from life's tumultuous currents. It's the art of tuning into the whispers of our inner selves, seeking a haven of stillness within. However, within the profound silence of meditation, a paradox has perplexed many. 
For some, this ancient practice meant to cultivate tranquility becomes a journey marked by trembling and shaking. The experience of shaking during meditation can be as baffling as it is disconcerting. It's a counterintuitive twist, like finding turbulence amid still waters. If you've ever seen yourself asking, "Why do I shake while meditating?" rest assured, you're not alone. 
In this article, we embark on a journey of exploration, illuminating the multifaceted factors that can contribute to this enigmatic phenomenon. We'll delve deep into the intricate dance between mind and body, the release of pent-up emotions, the sway of stress and anxiety, the significance of physical factors, and the power of breath.
In these pages, we'll unravel the mystery of meditation-induced tremors, providing valuable insights on embracing and understanding these experiences, turning the paradox of shaking into a path to self-discovery and healing.
Exploring the Link Between Mind and Body
The human experience is an intricate web of connections between the mind and body realms. Our thoughts, emotions, and mental states are intrinsically linked to physical well-being. This connection is never more evident than when we engage in practices like meditation, where the inner landscape of the mind interacts intimately with the sensations of the body. 
The experience of shaking during meditation is a striking example of this intricate bond. As we delve into the depths of our consciousness, we encounter thoughts, emotions, and physical responses that mirror the ideas we unearth. In its infinite wisdom, the mind often uses the body as a canvas to express what lies within. 
Understanding this profound link is the first step in unraveling the enigma of shaking during meditation, and it is a gateway to realizing the transformative potential of the mind-body connection within our inner sanctum.
Understanding Shaking as a Release of Emotions
In the calm of meditation, as we journey within the depths of our consciousness, we often stumble upon the treasures and burdens of our emotions. The human experience is replete with joy, sorrow, stress, and unresolved feelings. Meditation becomes a conduit for the emotional baggage we carry to the surface. 
The shaking that can accompany meditation is, in many cases, a manifestation of emotional release. It's a profound testament to the body's innate wisdom. As we confront the sentiments and experiences we've pushed beneath the surface, the body often responds with physical sensations, including trembling. This shaking is not a sign of weakness or a problem to be solved but rather a sign that we are allowing ourselves to process, acknowledge, and release what no longer serves us.
In this way, meditation becomes a therapeutic journey—a path to understanding, embracing, and ultimately freeing ourselves from the weight of our emotions. Shaking during meditation is not an obstacle but a bridge, connecting us to our emotional landscapes and offering a chance for profound healing and transformation.
How Stress and Anxiety Manifest in Meditation
In the tumultuous orchestra of modern life, stress and anxiety often play dominant roles, resonating loudly within the chambers of our consciousness. When we embark on a meditation practice, we initiate a process of introspection, aiming to find calm amidst the chaos. Often burdened with stress and anxiety, our bodies gradually unwind within this tranquil sphere. 
However, the initial response can sometimes be surprising—an expression of stress through physical sensations, such as trembling. This material manifestation is the body's way of processing and releasing the tension it has held. During meditation, as we confront our anxiety and stress sources, we may find our bodies reacting with trembling or shaking. 
Rather than being an impediment, this is a sign that meditation is working, gradually peeling away the layers of stress and anxiety that have accumulated over time. In these shaking moments, meditation becomes a powerful tool for acknowledging and gradually dissolving the anxiety and stress that often lie beneath the surface. It is a therapeutic voyage into our inner selves, where we uncover the roots of our emotional unrest and navigate the path to a more serene state of being.
Physical Discomfort and Its Influence on Shaking
While the mind plays a central role in the meditation experience, the comfort and state of the body are not to be overlooked. Physical factors can significantly impact the quality of your meditation practice, including the occurrence of shaking. Sometimes, discomfort in the body can trigger involuntary trembling.
A strained posture, prolonged meditation sessions without proper support, or even inadequate nourishment can lead to physical discomfort and, subsequently, shaking. Ensuring you are physically comfortable and supported during meditation is crucial to a successful practice. Creating an environment where the body can relax and remain at ease reduces the likelihood of shaking caused by physical discomfort. 
Simple adjustments, such as using cushions or sitting in a chair, can create a more relaxed meditation experience. In this way, you empower yourself to engage with meditation comfortably and sustainably, unlocking the potential for deeper inner exploration and stillness.
Techniques for Managing Shaking During Meditation
When trembling occurs during meditation, it's essential to remember that it's a natural response to the inner workings of your mind and emotions. One of the most powerful tools for managing this phenomenon is your breath. Concentrate on slow, deep breaths to soothe your nervous system and reduce physical tension.
Focusing on your breath can help ground you in the present moment and provide stability, even when your body feels unsteady. Equally important is the practice of acceptance. Rather than resisting the shaking, embrace it as an integral part of your meditation journey. Accept that your body releases built-up emotions, stress, or physical discomfort. 
This acceptance alleviates the anxiety accompanying these experiences and allows you to view shaking as a transformative process rather than a hindrance. With each breath and each moment of approval, you can navigate these experiences with grace, patience, and self-compassion, transforming them into an opportunity for profound self-discovery and growth within your meditation practice.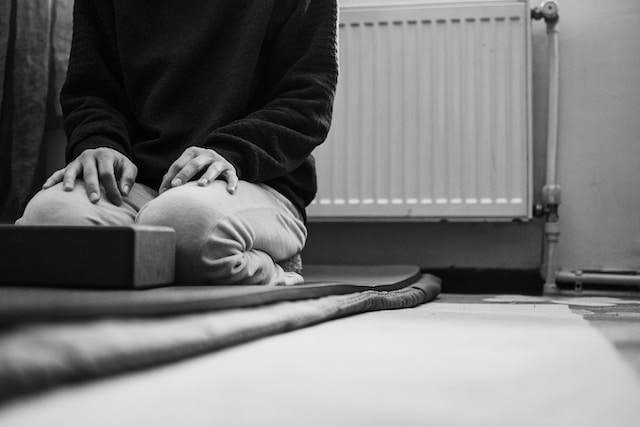 The Role of Emotion in Shaking and How to Address It
Meditation is a profound mirror reflecting the depth and complexity of our emotions. It is often within the stillness of this practice that emotions find their voice, sometimes surfacing with unexpected physical expressions like shaking. This occurrence is a testament to the intricate connection between our emotions and physical bodies. 
Shaking during meditation frequently signifies releasing pent-up emotions, hidden anxieties, or unresolved feelings in our subconscious. When these emotions emerge, they may trigger physical sensations as the body attempts to release emotional energy. Rather than viewing this as a disturbance, it is an opportunity for self-inquiry. 
Embrace these emotions as they rise to the surface during meditation. Allow yourself to feel them deeply, investigate their roots, and understand their role in your inner landscape. You embark on a transformative journey of self-awareness and emotional healing by doing so. In this exploration, you may find that the shaking is not an obstacle but a profound path to emotional liberation and personal growth within your meditation practice.
Creating a Comfortable Meditation Environment
A key to a successful and serene meditation practice is creating a physically comfortable environment. The body and mind are deeply intertwined, and the physical setting in which you meditate significantly influences your experience. Discomfort in your meditation space can often manifest as shaking during your practice. 
To alleviate this, consider the elements of your environment, such as your posture, the surface on which you sit, and the room temperature. Utilize cushions or props to support your posture, ensuring that you sit comfortably and sustainably. If sitting on the floor is challenging, consider using a chair or other ergonomic aids that promote relaxation. 
Furthermore, the room's temperature and lighting can also impact your comfort. A comfortable environment allows the body to relax, reducing the likelihood of shaking due to physical discomfort. By optimizing your meditation space for physical ease, you set the stage for a more tranquil and focused practice, enabling you to delve deeper into the recesses of your consciousness with grace and poise.
How to Handle Shaking During Meditation
If you find yourself shaking during meditation, it's essential to approach the experience with patience and self-compassion. Here are some tips to help you navigate this phenomenon:
1. Breathe: Focus on your breath. Slow, deep breaths can help calm your nervous system and reduce physical tension.
2. Acceptance: Acknowledge the shaking without judgment. Understand that it's part of your body's natural response to meditation.
3. Investigate Emotions: If you sense that the shaking is related to emotional release, explore the surface emotions and allow yourself to feel them fully.
4. Physical Comfort: Ensure you are physically comfortable during meditation. Use props or cushions to support your posture, and maintain a comfortable room temperature.
5. Seek Guidance: If the shaking persists and causes distress, consider seeking guidance from a meditation instructor or mental health professional who can help you better understand and address the underlying causes.
Conclusion: Why Do I Shake While Meditating?
Shaking during meditation is a complex and multi-faceted phenomenon. It can be attributed to emotional release, stress, anxiety, and physical factors. Instead of viewing it as an obstacle, consider it an opportunity for deeper self-awareness and healing. Embrace this paradox, for within it lies the potential for profound self-discovery, growth, and a deeper connection to the inner sanctuary of your being.
Shaking becomes not a hindrance but a guide on your journey to self-awareness and inner harmony, reminding you that stillness can be found even in the tremors of existence. With a compassionate and open-hearted approach, you can learn to embrace these experiences and find a more profound sense of calm and well-being in your meditation practice.