Power of Healing Meditation: A Journey to Inner Peace
Life can sometimes feel like a whirlwind, with ups and downs, challenges, and unexpected twists. Amid this whirlwind, the Power of Healing Meditation, and finding a sense of calm and inner peace can be a precious treasure. If you've ever wondered how to unlock this treasure, you're in the right place. Welcome to a journey that will introduce you to the remarkable world of healing meditation
Picture this journey as an exciting adventure into the depths of your mind and soul. Along the way, you'll discover the secrets of healing meditation, a practice that can transform your life by helping you find serenity, reduce stress, and promote well-being. Let's dive into the world of healing meditation and discover its power to bring tranquility and harmony to your mind and soul.
Understanding Healing Meditation
Healing meditation is a gentle yet profound practice that beckons us to delve deep into the recesses of our inner selves. At its core, healing meditation is about finding harmony and balance within, allowing us to heal physically, emotionally, and spiritually. In this exploration, we'll demystify the concept of healing meditation, unveiling its essence and the transformative power it holds.
Imagine healing meditation as a journey of self-discovery, a voyage into the inner landscape of thoughts, emotions, and sensations. It's a practice that invites us to slow down, pause the chaos of life, and connect with our inner essence. So, as we embark on this journey, open your heart and mind to the possibilities that healing meditation offers—a journey that may lead you to a more peaceful, balanced, and fulfilling life.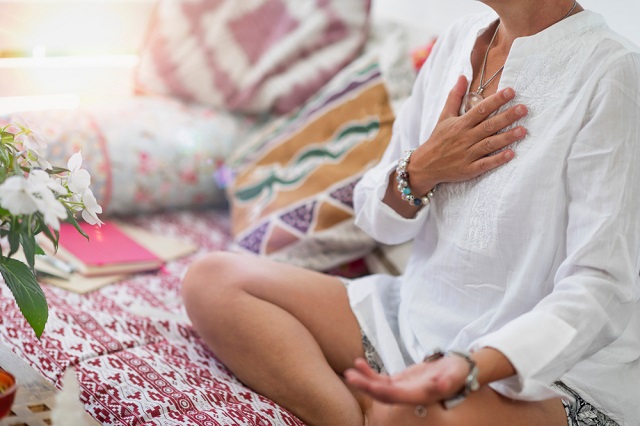 The Science Behind Healing Meditation
The science of healing meditation reveals how this ancient practice positively impacts our brains and bodies. It reduces stress, reshapes our brain's structure and function, boosts our immune system, eases pain, and strengthens the mind-body connection. It's not just a mystical concept; it's grounded in tangible, scientifically proven changes that promote healing and well-being.
The Brain's Remarkable Response to Meditation
When we engage in healing meditation, something remarkable happens within our brains. This mystical practice has a genuine and scientifically documented impact on our most complex organ. Through advanced brain imaging techniques, we've uncovered the profound changes that occur as we meditate. These changes illuminate why meditation is a powerful tool for achieving inner peace and well-being.
Meditation as a Natural Stress Buster
Stress is an unwelcome companion in many of our lives, but healing meditation offers a powerful antidote. By diving into meditation, we rewire our body's stress response system. This transformation is more than just a feeling; it's a physiological shift that can lead to a calmer, healthier, and happier life. This section will explore how meditation works magic on stress and its far-reaching effects on our bodies and minds.
Breathing Techniques for Healing Meditation
The profound techniques that harness the power of breath are central to the practice of healing meditation. Your breath is your ever-present companion, a tool you carry with you at all times, and when wielded mindfully, it becomes a gateway to inner tranquility. At the heart of these techniques is the art of deep belly breathing, a foundational meditation practice. It's akin to a gentle wave rising and falling in the depths of your abdomen.
1. Deep Belly Breathing
Deep belly breathing is like an anchor in meditation. As you inhale, let your breath fill your belly, grounding you in the present moment. It's a steady, calming rhythm that tames the mind's turbulence.
2. Guided Breath Awareness
Guided breath awareness takes your breath's power further. It becomes your guide, leading you on an inner journey. With each breath, you explore your body, mind, and emotions. It's a bridge between awareness and self-discovery.
3. The Connection Between Breath and Healing
Your breath is the unifying force in healing meditation. It nourishes, renews, and rejuvenates. Conscious breathing cleanses, soothes, and oxygenates. Understanding this connection unleashes your body's natural healing abilities, harmonizing breath and well-being.
Visualization and Guided Imagery
Visualization and guided imagery are your passports to the enchanting world of your imagination. These techniques transport you to the realm of mental landscapes and vivid dreams. Think of your mind as a canvas and visualization as the brush that paints your desires and aspirations. Through this practice, you can create vibrant mental images that manifest your goals, reduce stress, and lead you to healing and inner peace.
Visualize your body as a wellspring of vitality, your life as a tapestry of success, and your world as a haven of serenity. Creative visualization is the alchemy that transforms these thoughts into reality. It's a superpower that enables you to shape your destiny with the vivid strokes of your mind's eye.
Guided imagery is your gentle guide into a sanctuary within yourself. Picture serene gardens, tranquil beaches, or secret forests – these are the landscapes of your inner world. You can visit these places anytime you need solace and rejuvenation through guided imagery. Together, these practices invite you to unlock the boundless potential of your imagination, bringing healing, creativity, and transformation into your life's canvas.
Guided Healing Meditation
Guided healing meditations offer a soothing and illuminating journey for your inner self, led by a compassionate guide. This section will delve into guided meditation, where experienced mentors act as gentle navigators on your quest for inner peace and wellness.
Imagine having a trusted companion to navigate the landscapes of your inner world. Guided meditation resources provide precisely that. We'll introduce you to diverse resources, including audio recordings and meditation apps, offering various styles and expert guides to assist you in finding the perfect fit for your unique journey.
Prepare for a transformative adventure as we lead you through a step-by-step healing meditation. This immersive experience will gently guide you through the process, helping you unlock inner serenity, shed the burdens of stress, and tap into your body's innate capacity for healing. With a skilled guide at the helm, you'll discover the profound influence of your mind in manifesting positive change in your life.
Guided healing meditations serve as your companions on the path to well-being and self-discovery. Through these practices, you'll find a sanctuary of deep relaxation, self-awareness, and healing, all under the guidance of experienced meditation mentors. So, let's embark on this enlightening journey and explore the world of guided healing meditations together.
Healing Meditation Techniques
Healing meditation techniques offer a diverse toolkit for nurturing your mind, body, and spirit. Among these practices, Chakra Meditation aligns your energy centers, promoting balance and vitality. 
Body Scan Meditation guides you on a journey of inner exploration, helping you release tension and achieve a state of deep relaxation. Metta, or Loving-Kindness Meditation, fosters compassion for others and yourself, cultivating a sense of inner harmony and connection with the world around you. These techniques serve as gateways to healing, each offering its unique path to well-being and wholeness.
Integrating Healing Meditation into Your Daily Life
Integrating healing meditation into daily life can be a transformative journey toward a healthier and more balanced existence. One approach is to combine healing meditation with other wellness practices, creating a holistic approach to your well-being. Whether pairing meditation with yoga, mindful eating, or regular exercise, these combinations can amplify the positive effects of both practices, fostering a more harmonious and vibrant life.
Establishing a consistent meditation practice is another critical aspect of incorporating healing meditation into your daily routine. Much like any skill, meditation requires regularity and dedication to yield its full benefits. Setting aside a specific time each day, even if it's just a few minutes, can help you build a routine that becomes an integral part of your life. With time, patience, and commitment, healing meditation can become a cornerstone of your daily life, nurturing your body, mind, and spirit on a profound level.
Overcoming Common Challenges in Healing Meditation
In mastering healing meditation, it's essential to acknowledge and overcome common challenges that may arise along the way. One such challenge is dealing with restlessness during your meditation sessions. Restlessness can manifest as physical discomfort or a racing mind, making it challenging to find inner calm. You can gradually train your mind and body to settle peacefully by practicing patience and gentle persistence.
Another common hurdle in meditation is navigating mind wanderings. It's normal for thoughts to drift during practice, especially when just starting. Instead of getting frustrated, consider these distractions as opportunities for mindfulness. Acknowledge them and gently guide your focus to your chosen meditation method. Over time, this skill of returning to the present moment becomes more refined.
Staying committed to your meditation practice is the final piece of the puzzle. In the hustle and bustle of our daily routines, carving out time for meditation can be pretty challenging. However, even a few minutes daily can make a meaningful difference in your well-being. By scheduling your practice and viewing it as an essential part of your self-care routine, you can overcome the temptation to skip sessions. Ultimately, perseverance and patience are the keys to conquering these common challenges, allowing you to reap the rewards of your healing meditation journey.
Conclusion
Embracing healing meditation is a profound journey toward wellness and wholeness. Throughout this exploration, we've unveiled the science behind this transformative practice, harnessed the power of breath and visualization, and embarked on guided healing meditations. We've also discussed the challenges that may arise and how to overcome them.
Healing meditation is not a mere escape from life's challenges but a path to face them with a calmer, resilient heart. It offers a sanctuary within ourselves, where we can find inner peace, release stress, and tap into our body's natural healing abilities. By integrating meditation into our daily lives and combining it with other wellness practices, we create a holistic approach to well-being.