The Power of Sleep Meditation: Unlocking Inner Peace
The Power of Sleep Meditation: Finding a moment of tranquility can be an elusive quest in the hustle and bustle of our modern lives. The demands of our careers, the responsibilities of family life, and the relentless inundation of information from our ever-present digital devices can collectively create an overwhelming cacophony. The serenity we desperately crave during this daily chaos can feel like an unattainable dream.
The mere notion of finding relaxation, let alone enjoying a restful night's sleep, can appear to be a distant mirage on the horizon of our fast-paced existence. This is precisely where sleep meditation emerges as a beacon of hope is the gentle art of reconciling with our inner selves amidst the clamor of the external world. It offers a sanctuary of peace and a refuge from the relentless storm of our daily lives.
We embark on a journey to explore the profound realm of sleep meditation, delving into its remarkable ability to bestow upon us the gifts of inner tranquility, stress reduction, and a deep enhancement in the quality of our slumber. Sleep meditation is not merely a practice; it is a lifeline for those seeking respite from the ceaseless demands of the modern age.
What is Sleep Meditation?
Sleep meditation, a practice as old as humanity itself, is a profound journey within. It is an oasis of serenity during the chaos that often defines our lives. Sleep meditation represents a fusion of two invaluable gifts: the ancient art of meditation and the universal need for restful sleep.
This powerful practice offers a sanctuary where you can soothe your racing thoughts, cast away the day's anxieties, and embark on a voyage into the depths of your inner self. Sleep meditation provides the tools to nurture tranquility, reduce stress, and forge a path to peaceful slumber.
Sleep meditation is the exquisite marriage of two seemingly disparate elements: the timeless practice of meditation and the essential act of sleep. It combines the art of calming the mind and focusing on the present moment, typical of meditation, with the need for bodily relaxation and rejuvenation that sleep demands. This combination creates a synergy more significant than the sum of its parts.
By melding these two facets of our existence, sleep meditation becomes a conduit through which you can reconcile the external world's demands with your internal quest for peace. In this harmonious fusion, sleep meditation gains extraordinary power to transform your sleep quality and overall well-being.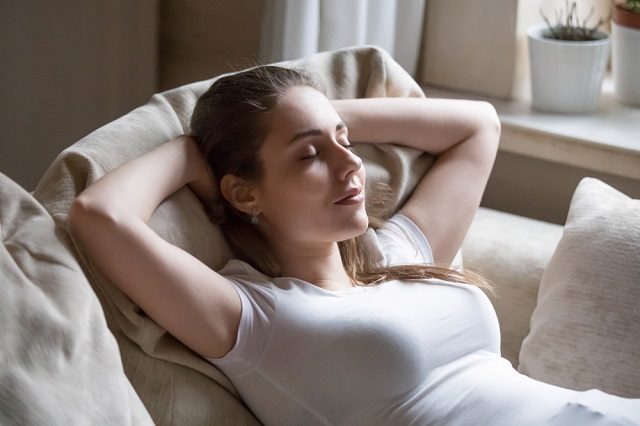 The Science Behind Sleep Meditation
The science behind sleep meditation delves into the remarkable physiological changes it can induce in our bodies. One of the most profound effects is reducing stress hormones, particularly cortisol. As we navigate the stressors of daily life, our bodies release cortisol, which can keep us alert and awake. However, elevated cortisol levels can be a formidable barrier when trying to wind down and sleep.
Sleep meditation acts as a calming balm for the nervous system, signalling our bodies that it's time to relax. As a result, cortisol levels decrease significantly, allowing the mind and body to enter a tranquillity conducive to peaceful slumber.
The benefits of sleep meditation extend beyond the immediate reduction of stress hormones. The practice is also known to influence our sleep patterns positively. Sleep meditation encourages the body to adopt a healthier sleep rhythm. By quieting the mind and alleviating anxieties, individuals are more likely to fall asleep faster, stay asleep throughout the night, and experience more extended periods of deep, restorative slumber.
This improvement in sleep patterns contributes to feeling more rested and better overall health and mental well-being. Sleep meditation becomes a bridge to an improved and more consistent quality of sleep, nurturing our bodies and minds for the challenges of the day ahead.
Benefits of Sleep Meditation
1. Stress Reduction
Life can be overwhelming, and leaving your worries at the bedroom door is not always easy. Sleep meditation provides a structured way to let go of the day's stressors, quiet the mind, and prepare for rest.
2. Enhanced Sleep Quality
Meditation before bedtime can lead to a deeper, more restorative sleep. As your mind and body relax, you're more likely to experience longer periods of rest and reduced instances of waking up during the night.
3. Improved Focus and Clarity
Beyond sleep, sleep meditation bestows a calmer, more focused mind that enhances daily clarity, attentiveness, and mental sharpness. Reducing anxiety and stress empowers individuals to tackle everyday challenges with heightened purpose, enriching their lives.
Sleep Meditation Techniques
The realm of sleep meditation offers a variety of techniques that cater to different preferences and needs. Guided sleep meditation involves listening to a recorded meditation session led by an experienced guide. This audio support can benefit beginners, as it provides structured and soothing instructions to ease you into a state of relaxation.
Body scan meditation is a method that encourages you to systematically focus on each part of your body, progressively releasing tension and fostering a profound sense of physical relaxation. Visualization meditation invites you to create a mental sanctuary or imagine a tranquil scene, engaging your senses to make this mental image as vivid and peaceful as possible.
Lastly, progressive muscle relaxation is a technique that involves consciously tensing and then releasing muscle groups, enabling your body to unwind and your mind to follow suit. These diverse sleep meditation techniques offer a spectrum of tools, ensuring that individuals can discover the approach that resonates most deeply with their unique needs and preferences, ultimately paving the way to restful slumber.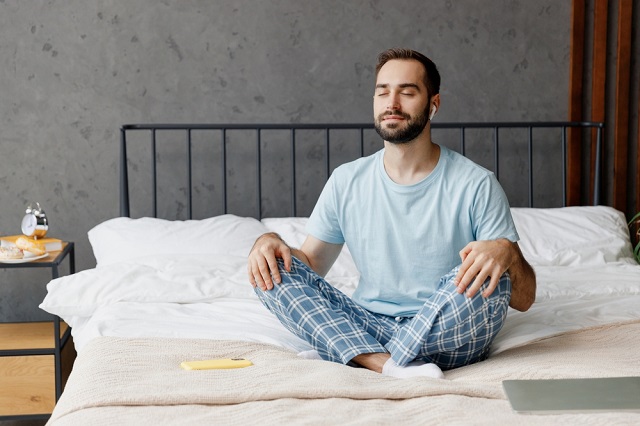 Sleep Meditation Tips for Beginners
For those just beginning their journey into sleep meditation, a few tips can help smooth the path to a more peaceful night's rest. First and foremost, creating a calming environment is crucial. Ensure your sleep space is free from distractions, as a quiet and serene setting provides the ideal backdrop for meditation.
Consistency in practice is equally vital. Establishing a regular bedtime routine incorporating sleep meditation can signal your body that it's time to wind down, fostering more predictable and restful sleep patterns. Patience and persistence are vital virtues, as mastering meditation takes time.
It's common for the mind to wander initially, and it might take several attempts to reap the benefits of this practice entirely. Remember that each effort brings you closer to a more peaceful slumber; your ability to enter a restful meditation will improve over time.
How to Practice Sleep Meditation
Finding Comfort
The first step on your sleep meditation journey is to ensure you're in a comfortable position. Whether you choose to lie down or sit, it's essential that you feel relaxed and supported. Consider using a cushion or pillow to support your neck and lower back, allowing your body to ease into a state of comfort.
Focusing on Your Breathing
The core of sleep meditation involves focusing on your breath. Inhale deeply through your nose and exhale gently through your mouth while keeping your attention fixed on the soothing rhythm of your breath. This focused breathing serves as the foundation for the calming practice of sleep meditation.
Mindful Body Scanning
Mindful body scanning is the next step in your sleep meditation journey. Begin at your toes and progressively work your way up, paying close attention to each body part. Intentionally relax and release any physical tension you may be holding, allowing your entire body to unwind.
Visualization
Visualization is a key component of sleep meditation. Create a mental sanctuary or envision a serene scenario. This could be a peaceful beach, a lush forest, or a cozy cabin. Engage all your senses to make this mental image vivid and immersive, transporting your mind to a place of tranquility.
Staying Present
While practicing sleep meditation, it's normal for your thoughts to wander. When this happens, gently guide your attention to your breath or chosen visualization. Staying present at the moment is a crucial aspect of this practice, helping to quiet the mind and prepare for a peaceful slumber.
Setting an Intention
Before you drift into sleep, setting a positive intention for your rest or the upcoming day is beneficial. By infusing your sleep with a sense of purpose and positivity, you create the potential for a refreshing and rejuvenating night's sleep. This intention serves as a gentle guiding light through the night, enhancing the overall effectiveness of sleep meditation.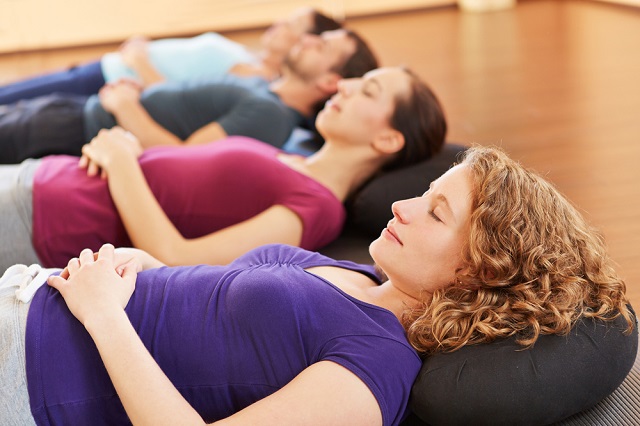 Incorporating Sleep Meditation into Your Routine
Incorporating sleep meditation into your daily routine is a profound shift that can have far-reaching effects on your well-being. To fully embrace this practice, consider the creation of evening rituals specifically designed to pave the way for restful slumber. These rituals gently remind your body and mind that it's time to transition from the day's busyness to the night's serenity.
Start by setting a designated time for your meditation practice, ideally about 15-20 minutes before your intended bedtime. This consistency establishes a clear sleep schedule and trains your body to recognize the signs of approaching rest. It's an opportunity to leave the day's worries behind and mentally prepare yourself for a rejuvenating night's sleep.
Additionally, the evening rituals can encompass other elements that promote relaxation. Dim the lights, reduce screen time, and engage in activities that soothe your mind, such as reading a calming book or taking a warm bath. When integrated into your bedtime routine, these practices complement sleep meditation and create an environment conducive to peaceful slumber.
Moreover, it's not just about the evening; you can also infuse your daily life with meditation. Incorporating short, mindful breathing exercises or mini-meditation breaks into your day can help reduce stress and maintain a sense of tranquility even amidst the hustle and bustle of daily life. By doing so, you foster a holistic approach to inner peace, making it a continuous thread that runs through the tapestry of your life, offering respite not just at night but throughout the day.
Conclusion
Sleep meditation is a tool that empowers you to reclaim the rest you deserve. It's a gateway to tranquility, an antidote to stress, and a path to better sleep. Sleep meditation offers a respite in a world where we're constantly connected and rarely find moments of true calm. So, before you close your eyes tonight, try it. Embrace the power of sleep meditation and unlock the peaceful sleep you've longed for. Sweet dreams await.