A Comprehensive Guide to Body Scan Meditation
Shed the weight of the world and discover tranquility within the confines of your mind with body scan meditation. Imagine being able to rinse away the stress and anxiety of the day akin to how a wave sweeps away the footprints on the sand- clean, effortless, and refreshing.
This comprehensive guide revolves around that. It explores a remarkable practice to soothe your mind and invigorate your spirit, using the power of awareness and inner equilibrium.
Body Scan Meditation is a sublime approach to self-awareness, extending serenity's hand to those drowning in modern tumult. More than an escape, it's a transformation for the soul.
Are you ready to embark on this profound journey? To appreciate the silent rhythm of your breath, listen to your body's unspoken language, and create a haven within yourself from life's chaos? Dive in, and let this guide serve as your compass to a more tranquil you.
The Benefits of Body Scan Meditation
The benefits of Body Scan Meditation are manifold. It promotes relaxation and stress relief, improves focus and concentration, and cultivates a deeper connection with the body. Fostering mindfulness can also improve emotion regulation, leading to better mental health.
Moreover, Body Scan Meditation can enhance self-compassion and positive body image. As you pay attention to your body non-judgmentally, you learn to appreciate it for what it is rather than what it looks like or can do. This can be particularly beneficial in a society that often promotes unrealistic body standards.
Additionally, by improving body awareness, Body Scan Meditation can contribute to healthier lifestyle choices. Recognizing when you're full, realizing what food makes you feel good, or noticing when you need rest, this heightened awareness can guide you towards better health and well-being.
The Importance of Body Scan Meditation in Stress Management
Stress is a ubiquitous part of modern life. However, its omnipresence does not make it any less harmful. Excess stress can wreak havoc on our physical health, mental well-being, and overall quality of life. This is where the practice of Body Scan Meditation comes into action. This form of mindfulness practice helps manage and alleviate stress by promoting relaxation, enhancing self-awareness, and encouraging a non-judgmental approach towards one's thoughts and feelings.
Body Scan Meditation trains the mind to focus on the present moment and fosters the ability to acknowledge stress without letting it overwhelm the senses. Concentrating on each part of the body sequentially allows for a deep connection with the self, fostering a sense of tranquility. This heightened self-awareness can improve stress management as individuals become more attuned to their triggers and responses.
Moreover, Body Scan Meditation encourages the practice of self-care. As individuals become more aware of their bodies, they can better understand their physical and emotional needs. This understanding can pave the way for healthier habits and lifestyle choices, further contributing to stress management.

The Science Behind Body Scan Meditation
The benefits of Body Scan Meditation are not just anecdotal; scientific research backs them. Various studies have shown that regular practice of this form of meditation can lead to physiological changes that promote overall well-being.
Insights from Neuroscience
Neuroscientific studies indicate that Body Scan Meditation can affect the brain's structure and function. It has been shown to increase the density of gray matter in the brain regions associated with learning, memory, and emotion regulation. Moreover, it can decrease the size of the amygdala, the part of the brain responsible for stress and fear responses.
A Scientific Perspective
Furthermore, Body Scan Meditation can reduce the stress hormone cortisol and promote the release of endorphins, the body's natural painkillers. It can also enhance the immune system's function and improve the body's healing ability. Thus, the science behind Body Scan Meditation underscores its transformative potential.
How to Practice Body Scan Meditation
Practicing Body Scan Meditation involves focusing on different body parts, from your toes to the crown of your head. Begin by locating a peaceful and uninterrupted space. You can either sit or lie down, whichever is more comfortable. Shut your eyes and take a few deep breaths to center yourself.
Begin the body scan at your toes. Pay attention to any sensations you may feel – warmth, tanginess, numbness, or nothing. Remember, the goal is not to change or judge these sensations but to observe them. Gradually move your attention up through your feet, legs, torso, arms, and finally, to your head, pausing to notice the sensations in each part.
As you do this, you may find your mind wandering. That's perfectly okay. When you notice this, gently bring your attention to the part of your body you are focusing on. The key is to practice non-judgmental awareness. With time and regular practice, you will become more adept at maintaining focus and acknowledging your body's subtle signals.
Tips for Successful Body Scan Meditation
While Body Scan Meditation is straightforward, specific tips can enhance your experience. Firstly, it is essential to practice regularly. Make it a part of your daily routine for five minutes or fifty.
Secondly, be patient with yourself. It's natural for your mind to wander or for you to fall asleep during the practice initially. Instead of getting frustrated, gently guide your attention back to your body. Over time, your ability to focus will improve.
Lastly, maintaining a non-judgmental attitude is crucial. Whether it's about the sensations you feel (or don't feel), your ability to stay focused, or your progress in general, refrain from judging. Remember, the goal is not perfection but awareness and acceptance.
A Step-by-Step Guide to Performing Body Scan Meditation
Locate a tranquil and cozy spot where interruptions are unlikely.
Choose to sit or lie down, depending on which is more comfortable for you.
Gently close your eyes and inhale deeply a few times to center yourself.
Start the body scan at your toes, paying attention to any sensations you may feel.
Move your attention up through your body, focusing on each part sequentially.
Acknowledge any thoughts or emotions that arise, but gently bring your attention back to your body.
Continue the body scan until you've focused on each part of your body, up to the crown of your head.
Take a few moments to experience your body as a whole before ending the practice.
Remember, the goal is not to change or judge whatever you experience but to observe it with curiosity and acceptance. Happy meditating!
Common Challenges and Solutions in Body Scan Meditation
Despite its simplicity, Body Scan Meditation may present some challenges, especially for beginners.
Overcoming the Wandering Mind
One common challenge is the tendency for the mind to wander. If you find this happening, gently bring your attention back to your body. With time and practice, your ability to focus will improve.
Embracing Sensation and Observation
Another challenge could be the lack of sensation in certain body parts. If this happens, acknowledge it and move to the next part. The purpose is to observe, not to force a sensation.
Cultivating Curiosity and Acceptance
Lastly, you may find some sensations uncomfortable or distressing. If so, try to approach them instead of avoiding them with curiosity and acceptance. Doing so can foster a healthier relationship with your body and its sensations.
Body Scan Meditation for Beginners
As a beginner, start with shorter sessions of around 5-10 minutes and gradually increase the duration as you get more comfortable with the practice. You could also use guided Body Scan Meditations available online. These guided sessions can be beneficial as they provide structure and direction.
When starting, focus on the significant parts of your body, such as the feet, legs, torso, arms, and head. As you become more adept, you can focus on smaller areas for a more detailed scan. Remember, patience and consistency are key. You may not notice significant changes immediately, but with regular practice, you will likely see improvements in your stress levels, focus, and overall well-being.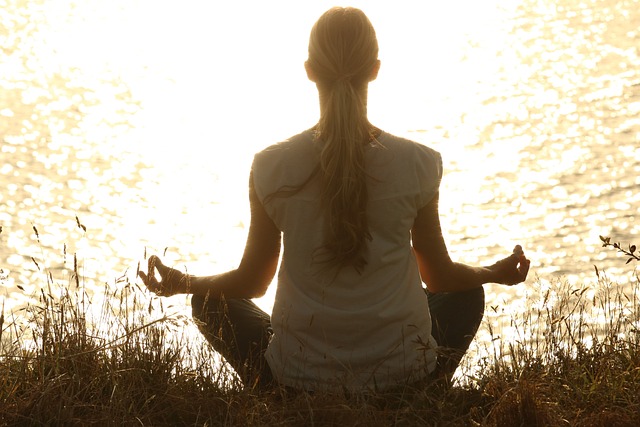 Advanced Body Scan Meditation Techniques
For those who have mastered the basics, there are advanced techniques to deepen your Body Scan Meditation practice. One such technique is to incorporate visualization. As you scan your body, visualize a warm, healing light moving through it. This can enhance the sense of relaxation and well-being.
Another advanced technique involves incorporating elements of loving-kindness meditation. As you scan each part of your body, you can express gratitude for its service and send it loving thoughts. This can foster a more positive body image and a deeper connection with the self.
Stay open to exploration and experimentation as you advance in your practice. Each person's meditation journey is unique, so what works for one may not work for another. Find what resonates with you and makes your training more meaningful.
Conclusion
In conclusion, Body Scan Meditation offers a simple yet powerful way to manage stress and cultivate inner tranquility. This practice allows you to develop a deeper connection with your body, foster mindfulness, and enhance your overall well-being. Whether you're a beginner or a seasoned practitioner, there's always something to gain from this transformative practice.
As with any journey, Body Scan Meditation begins with a single step. So, why wait? Take the first step today, and embark on a journey towards a more tranquil and mindful you.