An Ultimate Guide to Walking Meditation
Harness the power of your mind and transfigure your daily stroll into a sanctum of tranquility with the transformative practice of Walking Meditation. Finding moments of serenity can seem like seeking a needle in a haystack in a world constantly on the move.
But what if those moments of chaos held the key to unmatched peace and mindfulness? Welcome to your ultimate guide to mastering Walking Meditation. A practice as old as time yet as relevant as the air you breathe, this unique fusion of physical and mental exercise will guide you on a journey to inner harmony.
Unearth the potential of every step and each breath to anchor you firmly in the 'here and now.' Lace up your shoes, align your senses, and get ready to embark on an enlightening path of self-discovery and tranquility. Are you prepared to master your mind?
The Science Behind Walking Meditation
Walking meditation, also known as mindful walking, is a form of meditation in motion. In this practice, walking is the focus of your meditation rather than a candle flame or breathing process that we often associate with traditional meditation techniques. Scientifically, walking meditation stimulates the production of endorphins, the body's natural painkillers, and enhances the functionality of the cardiovascular system.
Moreover, walking meditation is a form of bilateral stimulation – the rhythmic, left-right pacing is believed to stimulate neural activity and promote the integration of emotional and cognitive functions. This is why a walk often brings clarity and calms the storm of thoughts in our minds.
Furthermore, research has shown that walking meditation can impact our brain's structure and functionality. Regular practice can increase the gray matter concentration in the hippocampus and the prefrontal cortex, areas associated with learning, memory, and emotion regulation. Walking meditation also decreases the density of the amygdala, a region linked to stress and anxiety.
The Benefits of Walking Meditation
Walking meditation, like all forms of meditation, offers many benefits. Primarily, it allows us to cultivate mindfulness and presence by focusing on the simple act of walking. This conscious attention to our movements helps us connect with our bodies, quieten the mind, and become aware of the present moment.
Physically, walking meditation can help improve cardiovascular health, balance, and coordination. It increases our endurance and stamina by gently raising the heart rate. It's a low-impact exercise suitable for all age groups and fitness levels. It is particularly beneficial for those who find sitting meditation challenging due to physical discomfort.
Psychologically, walking meditation helps reduce stress, anxiety, and depression. It improves focus, concentration, and creativity. It also fosters a greater self-awareness, helping us become more attuned to our thoughts, feelings, and sensations.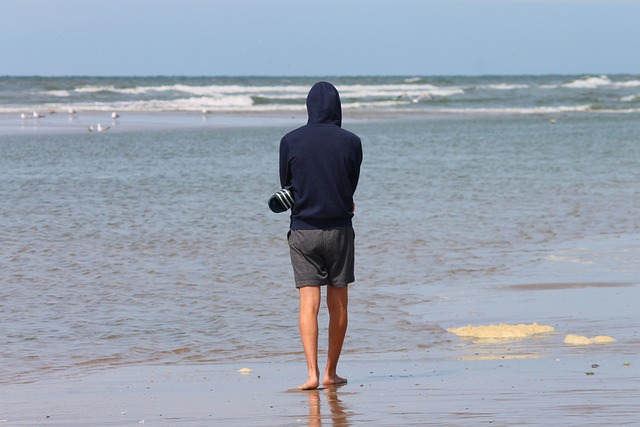 Steps to Master Walking Meditation
Mastering walking meditation begins with setting an intention. This could be as simple as wanting to become more present or as profound as seeking insight into a particular aspect of your life. Start by finding a quiet, uninterrupted path to walk back and forth. The distance doesn't matter; what's crucial is that you can walk without distraction.
Begin walking at a natural pace. Focus on the feeling of your feet making contact with the ground, the cadence of your breath, and the motion of your body. If your thoughts wander, gently guide your attention to the tangible sensation of walking. The goal is not to control your thoughts but to acknowledge them without judgment and return to the act of walking.
As you become more comfortable with the practice, you can start incorporating mindfulness of breathing. Coordinate your steps with your breath. You could take one action with each inhale and one with each exhale or find a natural rhythm. The key is to maintain your focus on the experience of walking and breathing.
Tips for Improving Your Walking Meditation Practice
Improving your walking meditation practice involves consistency, patience, and gentle self-observation.
Building Mastery
It's essential to maintain a regular practice. Like any skill, the more you practice, the more proficient you become. Aim for a daily routine, even if it's just for a few minutes.
Consistent Practice
Remember to be patient with yourself. It's normal for your mind to wander, especially when you're just starting. Instead of getting frustrated, gently guide your attention back to your walking. This act of returning to the present moment strengthens your mindfulness muscle.
Personalized for Mindfulness
Experiment with your pace. Some people find a slow, deliberate pace helps them become more mindful, while others prefer a quicker pace to keep their minds from wandering. Find what works best for you, and remember there's no right or wrong way to do walking meditation.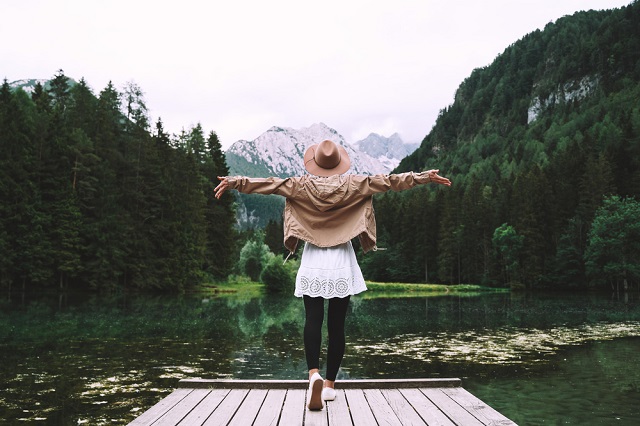 Common Challenges in Walking Meditation and How to Overcome Them
Walking meditation, while simple in concept, can present some challenges. One of the most common issues is distraction. Whether it's external noises, physical discomfort, or a wandering mind, distractions are a part of the meditative process.
If you find yourself getting easily distracted, view these distractions as part of your meditation practice. Instead of resisting them, acknowledge their presence and gently redirect your attention to your walking. With time and practice, you'll find it easier to remain focused.
Physical discomfort is another common challenge. Listening to your body is essential if you experience discomfort or pain while walking. Adjust your pace or take breaks as needed. Remember, walking meditation should not be a strain or a struggle but a peaceful and enjoyable experience.
Incorporating Walking Meditation into Your Daily Routine
Incorporating walking meditation into your daily routine can be as simple as being mindful during everyday walks. Whether walking to the subway, strolling during your lunch break, or taking your dog for a walk, these moments can be transformed into opportunities for mindfulness practice.
Start by dedicating a specific time each day for your walking meditation. Even dedicating a few minutes each day can yield noticeable results. As you become more comfortable with the practice, you can gradually increase the duration.
Remember, the goal of walking meditation is not to get somewhere but to be fully present in each step. So, slow down, pay attention, and transform your ordinary walks into mindful journeys.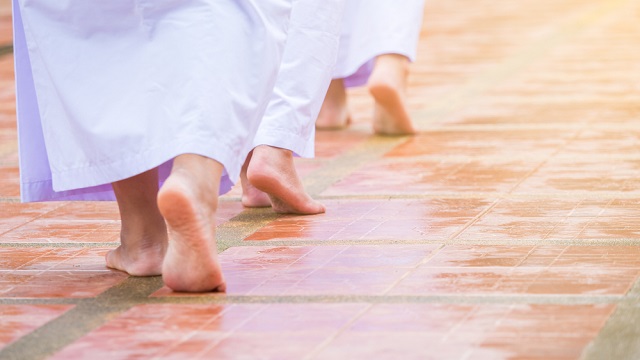 Helpful Resources for Mastering Walking Meditation
Numerous resources are available to deepen your understanding of walking meditation. Books like "Walking Meditation: Peace is Every Step. The book "It Turns the Infinite Path into Joy" by Thich Nhat Hanh offers comprehensive guidance on this practice. Apps like Headspace, Calm, and Insight Timer offer guided walking meditations that can be helpful for beginners.
Additionally, several online platforms offer courses on meditation, including walking meditation. Websites like Udemy, Coursera, and Mindful.org are worth exploring. Remember, the most essential resource in your walking meditation practice is your experience. So keep walking, observing, and discovering the joy of being in the present moment.
Walking Meditation vs Sitting Meditation
While walking and sitting meditation aim to cultivate mindfulness and presence, they offer different experiences. Sitting meditation is a static practice that focuses on quieting the mind and turning inward. It's often associated with deep relaxation and introspection. On the other hand, walking meditation is dynamic and engages the body in a conscious, deliberate way.
In walking meditation, the physical act of walking serves as an anchor, helping you to stay present and mindful. It's an excellent practice for those who find sitting still tricky or uncomfortable. Plus, walking meditation can be easily incorporated into daily life, making it a practical way to cultivate mindfulness.
Numerous studies have shown that both practices offer similar benefits, including reduced stress, improved concentration, and increased self-awareness. Therefore, choosing between walking and sitting meditation often depends on personal preference and lifestyle.
Walking Meditation vs. Traditional Meditation
Walking Meditation and Traditional Meditation offer different but complementary paths to mindfulness. Traditional Meditation often involves sitting silently and focusing on your breath or a mantra. It's a powerful practice for developing concentration and exploring the inner workings of your mind.
On the other hand, Walking Meditation uses the simple act of walking as the focus of mindfulness. It's a dynamic practice that combines physical activity with mental training. It's beneficial for those struggling with seated meditation or wanting to incorporate mindfulness into their daily activities.
Ultimately, both practices aim to cultivate mindfulness, presence, and inner peace. Whether you choose Walking Meditation, Traditional Meditation, or a combination of both, the key is to find a practice that resonates with you and supports your journey toward mastering your mind.
Conclusion
Walking Meditation is a simple yet profound practice transforms daily walks into mindful journeys. It's an accessible way to cultivate mindfulness and presence, offering many benefits, from improved physical health to enhanced mental well-being.
As you continue to practice walking meditation, you'll find that the line between your meditation practice and daily life begins to blur. Each step becomes a moment of mindfulness, each breath a reminder to be present. So lace up your shoes, take action, and embark on mastering your mind.