The Power of 7 Chakra Meditation: Unlock Inner Peace
In our fast-paced and often chaotic world, finding a sense of inner calm and balance by delving into the ancient practice of Chakra Meditation, we can tap into the energy centers within our bodies and harness their potential to cultivate serenity, harmony, and self-awareness.
Throughout this journey, we will delve into the seven chakras, understanding their significance and learning how to activate and balance them through meditation. So, prepare to embark on a transformative path towards unlocking your inner peace and discovering the profound connection between mind, body, and spirit through the power of Chakra Meditation.
The link between chakra meditation and inner peace
Chakra meditation is a potent tool for cultivating inner peace by establishing a profound connection between our energy centers and our state of being. The chakras, believed to be spinning wheels of energy along the spine, are intricately linked to our physical, emotional, and spiritual well-being.
A harmonious energy flow is achieved when these energy centers are balanced and aligned, leading to a profound sense of inner peace. Through chakra meditation, we can intentionally focus on each chakra, clearing any blockages or imbalances hindering our peace of mind.
By bringing awareness to these energy centers and engaging in specific meditation techniques, we can release stagnant energy, promote healing, and restore a sense of equilibrium within ourselves.
As we delve deeper into the practice of chakra meditation, we begin to experience a heightened sense of self-awareness, emotional stability, and a profound connection to our inner essence. Chakra meditation is a potent tool for cultivating inner peace, leading us to unlock the door to lasting serenity and harmony within.
Understanding the seven chakras
Embarking on a transformative journey towards self-discovery and inner harmony requires a fundamental understanding of the seven chakras, as they serve as the guiding map to unlock our true potential. Each chakra represents a specific energy centre within our body, intricately connected to our physical, emotional, and spiritual well-being. 
The journey through the seven chakras begins at the base of the spine and ascends, encompassing the Root Chakra, Sacral Chakra, Solar Plexus Chakra, Heart Chakra, Throat Chakra, Third Eye Chakra, and Crown Chakra along the way. Each chakra has unique qualities, such as stability, creativity, personal power, love, communication, intuition, and spiritual connection.
By understanding the characteristics and functions of each chakra, we gain insight into the areas of our lives that may require attention and balance. We can activate and harmonize these energy centres through chakra meditation and other practices, allowing for a free flow of energy and promoting overall well-being. As we deepen our understanding of the seven chakras, we unlock the potential for personal growth, healing, and a profound sense of inner alignment.
How to Start Practicing Chakra Meditation: A Step-by-Step Guide
Embarking on chakra meditation holds the potential for a transformative journey towards self-discovery and inner peace. To help you get started on this path, here is a step-by-step guide:
1. Find a Quiet Space: Find a quiet and comfortable space to relax without distractions. Find a comfortable position, whether sitting cross-legged on the floor or in a chair with your feet planted firmly on the ground.
2. Relax and Breathe: Close your eyes and take a few deep breaths, allowing yourself to relax and release any tension. Please direct your attention towards your breath, allowing it to naturally slow down and find a steady rhythm.
3. Root Chakra: Direct your attention to the Root Chakra at the base of your spine. Inhale positive energy and exhale any negativity or blockages. Please spend a few moments connecting with this chakra, allowing it to become balanced and grounded.
4. Sacral Chakra: Shift your attention to the Sacral Chakra, located just below the navel. Visualize a warm, orange energy swirling in a clockwise motion. Breathe deeply, allowing this energy to expand and flow freely. Acknowledge any emotions or creative energy that arises.
5. Solar Plexus Chakra: Move your focus to the Solar Plexus Chakra, located in the upper abdomen. Visualize a bright yellow energy spinning in a clockwise direction. Envision this energy, radiating confidence, personal power, and inner strength. Release any self-doubt or insecurities as you connect with this chakra.
6. Heart Chakra: Continue to the Heart Chakra, located in the center of the chest. Visualize a vibrant green energy spinning in a clockwise motion. Breathe deeply, allowing this energy to fill your heart space with love, compassion, and forgiveness.
7. Throat Chakra: Shift your attention to the Throat Chakra located at the base of the throat. Engage your visualization skills and imagine a vibrant blue energy swirling clockwise. Breathe deeply, allowing this energy to open up your communication channels. Express yourself authentically and release any fear of speaking your truth.
8. Third Eye Chakra: Focus on the Third Eye Chakra, located between the eyebrows. Visualize a profound indigo energy spinning in a clockwise motion. Trust your inner guidance and release any doubts or limiting beliefs.
9. Crown Chakra: Bring your attention to the Crown Chakra located at the top of the head. Visualize a radiant violet or white energy spinning in a clockwise direction. Breathe deeply, allowing this energy to connect you to the divine and expand your consciousness. Release any attachments or ego-driven thoughts.
10. Integration and Conclusion: Take a few moments to breathe deeply and integrate the energy of all seven chakras. When ready, gently open your eyes and carry a sense of balance and harmony throughout your day.
Remember, practicing chakra meditation is a journey, so be patient and compassionate with yourself as you explore and deepen your connection to these powerful energy centers.
The benefits of regular chakra meditation practice
Regular chakra meditation offers many benefits that can positively impact our well-being.
1. Relaxation and Stress Reduction
Chakra meditation promotes deep relaxation and reduces stress by focusing on the energy centers within our body and releasing any blockages or imbalances. It allows us to experience a profound state of calm and tranquility.
2. Self-awareness and Introspection
Consistent chakra meditation amplifies self-awareness, allowing us to explore our emotions, thoughts, and behaviors more deeply. This increased self-awareness can lead to personal growth, improved decision-making, and greater clarity in our lives.
3. Emotional Balance and Stability
Chakra meditation can significantly contribute to our emotional well-being. It helps us process and release negative emotions, fostering a greater sense of inner peace and emotional resilience. Through its practice, we can nurture dynamic equilibrium and foster a sense of stability.
4. Spiritual Connection and Intuition
Chakra meditation can enhance our spiritual connection and intuition. By tapping into our energy centers, we can access our inner wisdom and guidance, delving into this practice. We can further enrich our sense of purpose and meaning, creating a heightened sense of fulfillment and contentment.
5. Holistic Well-being
Engaging in regular chakra meditation practice provides a comprehensive approach to overall well-being. It nurtures our mind, body, and spirit, promoting balance and harmony. It empowers us to live a more fulfilling and harmonious life.
Integrating regular chakra meditation into our daily routine opens us to transformative and positive changes. This practice enables us to nurture inner peace, enhance emotional well-being, and foster spiritual growth.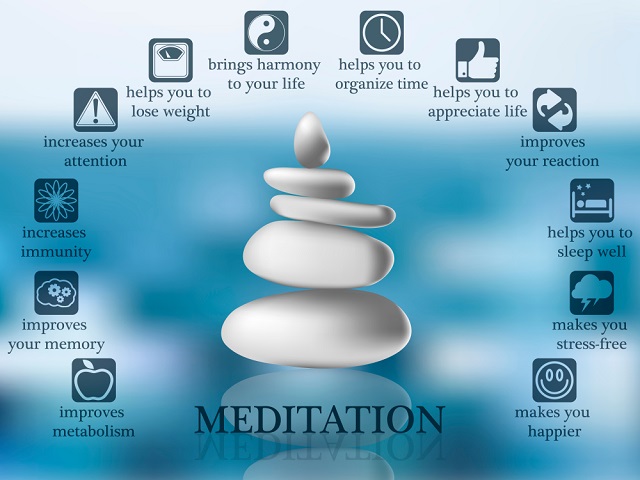 Techniques and exercises for chakra meditation
Chakra meditation involves various techniques and exercises that can help activate and balance the energy centers within our body. Here are some commonly practiced techniques for chakra meditation:
1. Visualization: One of the fundamental techniques in chakra meditation is visualization. Begin by focusing on a specific chakra, imagining its associated color, and visualizing it spinning clockwise. This visualization helps to activate and balance the energy of the chakra.
2. Mantra Meditation: Mantras are sacred sounds or words that can focus the mind during meditation. Each chakra has its corresponding mantra. As an illustration, the Root Chakra is often connected with the "LAM" mantra, while the Crown Chakra is commonly associated with "OM." Chanting these mantras during meditation can help align and harmonize the chakras.
3. Breathing Exercises: Conscious breathing techniques can be incorporated into chakra meditation to enhance energy flow. For example, one can engage in deep belly breathing, taking slow and deep inhalations through the nose, and exhaling fully through the mouth. As you breathe, imagine the breath flowing into and energizing the specific chakra you are focusing on.
4. Affirmations: Positive affirmations can reprogram negative thought patterns and beliefs associated with specific chakras. For example, for the Heart Chakra, you can repeat affirmations such as "I am open to giving and receiving love unconditionally." You can help balance and activate the corresponding chakra by affirming positive statements.
5. Yoga Asanas: Certain yoga poses, or asanas, can help activate and balance the chakras. For example, the Tree Pose (Vrikshasana) is often used to activate the Root Chakra, while the Fish Pose (Matsyasana) can stimulate the Throat Chakra.
6. Guided Meditations: Guided meditations designed explicitly for chakra balancing can be helpful, especially for beginners. These meditations provide step-by-step instructions and visualizations to guide you through activating and balancing each chakra.
Remember, consistency and regular practice are vital to experiencing the benefits of chakra meditation. Explore various techniques and discover what resonates with your individual preferences and needs. With time and dedication, chakra meditation can become a powerful tool for self-discovery, healing, and spiritual growth.
Integrating chakra meditation into your daily routine
Incorporating chakra meditation into your daily routine can profoundly impact your well-being and spiritual growth. Here are some tips to help you make chakra meditation a regular practice:
1. Set a Regular Time
Select a time of day that suits you best for incorporating chakra meditation into your routine. This could be in the morning to commence your day with a centered and balanced mindset or in the evening to unwind and alleviate accumulated stress. Maintaining consistency is crucial, so adhere to your chosen time every day.
2. Create a Sacred Space
Designate a quiet and peaceful space in your home to practice chakra meditation. Make it a sacred space by adding elements that resonate with you, such as candles, crystals, or meaningful objects. This space will help create a conducive environment for your meditation practice.
3. Start with Short Sessions
If you're new to chakra meditation, begin with shorter sessions and gradually increase the duration as you become more comfortable. Even just 10-15 minutes of focused meditation can be beneficial. As you progress, you can extend your practice to longer periods.
4. Combine Chakra Meditation with Other Practices
Consider integrating chakra meditation with other practices that support your well-being, such as yoga, breathwork, or journaling. By incorporating these complementary practices, you can amplify the benefits of chakra meditation and establish a more comprehensive and holistic approach to your daily routine.
5. Use Reminders
Utilize reminders or alarms on your phone, or strategically place visual cues around your home to prompt and encourage you to engage in regular chakra meditation sessions. This can help you stay consistent and make it a natural part of your daily routine.
6. Be Open to Adaptation
Be flexible and open to adapting your chakra meditation practice to fit your changing needs and circumstances. On some days, you may have more time for a more extended meditation; on other days, a shorter session may be more feasible. Embrace the natural rhythm of life and maintain a consistent practice, allowing yourself to adapt to its ebb and flow gracefully.
7. Seek Guidance
If you need guidance or more profound understanding, consider seeking resources such as books, online courses, or guided meditations focused on chakra meditation. These resources offer valuable insights and techniques to enrich and elevate your practice.
Remember, the key is to make chakra meditation a regular part of your daily routine. With dedication and consistency, you can experience the transformative benefits of chakra meditation and cultivate a deeper connection with yourself and the world around you.
Conclusion
Embracing inner peace through chakra meditation is a powerful and transformative journey. Incorporating chakra meditation into our daily routine, we can experience a deep sense of relaxation, stress reduction, and emotional balance. It allows us to cultivate self-awareness, tap into our intuition, and connect with our spiritual essence. 
Chakra meditation offers a holistic approach to well-being, nurturing our mind, body, and spirit. As we embark on this practice, let us remember to be patient and compassionate with ourselves, allowing the process to unfold naturally.