Can Meditation Help with Weight Loss?
Can Meditation Help with Weight Loss? In a world marked by the relentless pursuit of the "perfect" body, weight loss has become a ubiquitous goal, often driven by societal pressures and individual desires for physical well-being. Yet, the journey to a healthier weight is not merely about numbers on a scale; it is an intricate and multifaceted expedition that encompasses the intricate interplay between the body, mind, and spirit. 
In this article, we venture into the transformative landscape of holistic weight loss and explore how meditation, a centuries-old practice, can emerge as a guiding light along this path. As we embark on this exploration of holistic weight loss, we will delve into the pivotal role that meditation plays in this transformative journey. It is a journey transcending numbers on a scale, addressing the profound connection between the mind, body, and spirit.
Together, we will unlock the potential of meditation as a tool for not only shedding unwanted pounds but for fostering a profound and enduring transformation in our lives. This is not just about weight loss; it is about embracing a path to genuine well-being that encompasses every facet of our existence. Join us on this remarkable journey, where we discover how meditation can become a steadfast companion along the road to holistic weight loss.
The Mind-Body Connection
Exploring the relationship between our thoughts, emotions, and weight is a journey into the intricate web of human psychology and physiology. This connection, often underestimated in conventional weight loss strategies, forms the very foundation of our understanding of holistic well-being.
How we think and feel can profoundly influence our weight and overall health. When stressed, our bodies release cortisol, a hormone linked to weight gain, particularly around the abdomen. Similarly, our emotions can trigger cravings and impulsive eating, sabotaging our weight loss efforts. 
By exploring this intricate relationship, we unveil the vital role that our mental and emotional well-being plays in our physical health. Understanding the mind-body connection is the first step toward harnessing its power to create lasting, transformative changes in our lives.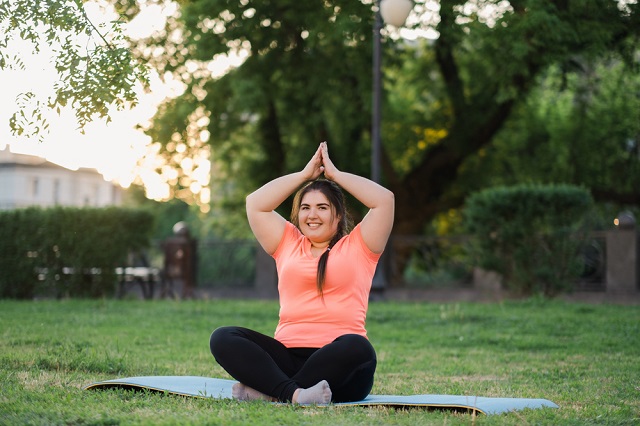 Understanding the Mind-Body Connection
Understanding the Mind-Body Connection requires us to delve deeper into this intricate and fascinating concept. This connection is not a mere coincidence but a fundamental truth that underscores the unity of our physical and mental well-being. Our thoughts, emotions, and the state of our mind can exert a profound influence on our physical health. 
When we experience stress, our bodies respond with a surge of cortisol, a hormone associated with fat storage, particularly in the abdominal region. Additionally, our emotional states have the potential to induce cravings, and impulsive eating, and consequently, lead to fluctuations in our body weight. This profound interplay between the mind and body is a two-way street. Not only do our mental and emotional states affect our physical health, but our physical health, in turn, can influence our mental and emotional well-being. 
The more we understand this intricate connection, the better equipped we become to harness its transformative power in our journey toward holistic well-being and lasting weight management.
Meditation and Stress Reduction
Meditation and Stress Reduction: Delving into the soothing realm of meditation unveils its remarkable capacity to alleviate stress and lower cortisol levels, shedding light on the pathway to inner tranquility and weight management.
Stress is a common companion in our fast-paced lives, triggering the release of cortisol, often called the "stress hormone." Elevated cortisol levels can lead to weight gain, particularly around the abdomen. Meditation acts as a powerful antidote to this modern-day stress epidemic. 
Through the gentle practice of mindfulness and controlled breathing, it enables us to calm the turbulence of our thoughts and emotions. As the mind finds serenity, cortisol production diminishes, and the body's stress response begins to recede. 
This not only fosters emotional well-being but also empowers us to make more mindful and healthful choices, curbing impulsive, stress-induced eating. In this harmonious interplay of meditation and stress reduction, we discover a vital tool that not only promotes inner peace but paves the way for holistic weight management and improved overall health.
Mindful Eating
The practice of mindful eating is a captivating journey into conscious consumption, revealing how our approach to food can profoundly influence our weight and overall well-being. In a world marked by rushed meals and mindless snacking, mindful eating invites us to slow down and savor each bite. It encourages us to fully engage our senses, paying attention to the texture, taste, and aroma of the food before us. 
This intentional approach to eating brings us into the present moment, allowing us to listen to our body's cues of hunger and fullness, preventing overeating. By fostering a deeper connection with the food we consume, mindful eating can promote portion control, healthier choices, and an increased awareness of our relationship with food.
This practice goes beyond calorie counting; it fosters a harmonious connection between the mind and the body, aligning our eating habits with our weight management goals and aspirations for overall wellness.
Practicing Mindful Eating
1. Creating the Right Environment
Designing a calming and distraction-free dining environment can set the tone for a mindful eating experience. Find a quiet place, set a pleasant table, and eliminate digital devices to engage with your meal fully.
2. The Art of Presence
Cultivating a mindful eating practice involves focusing on your meal without the intrusion of thoughts about the past or future. Concentrate on the act of eating, the taste, and the textures in every bite.
3. Savoring Each Bite
Paying attention to the sensory aspects of food is at the core of mindful eating. Concentrate on the texture, flavor, and aroma of each bite to heighten your eating experience.
4. Listening to Your Body
Mindful eating encourages you to be attuned to your body's signals. Recognizing when you're genuinely hungry and when you're comfortably full helps prevent overeating.
5. Practical Exercises and Techniques
Various exercises and techniques can deepen your mindfulness during meals. These may include guided breathing, body scans, and mindful gratitude practices to enhance your eating experience.
6. Dealing with Distractions and Impulsive Eating
Practicing mindful eating can prove challenging when confronted with distractions or impulsive eating habits. Learn how to address these challenges with strategies like mindful portion control and setting eating intentions.
7. Nurturing a Mindful Relationship with Food
To make mindful eating a lasting habit, consider gradually integrating it into your daily routine. Building a mindful relationship with food is an ongoing process that involves practice, patience, and self-compassion.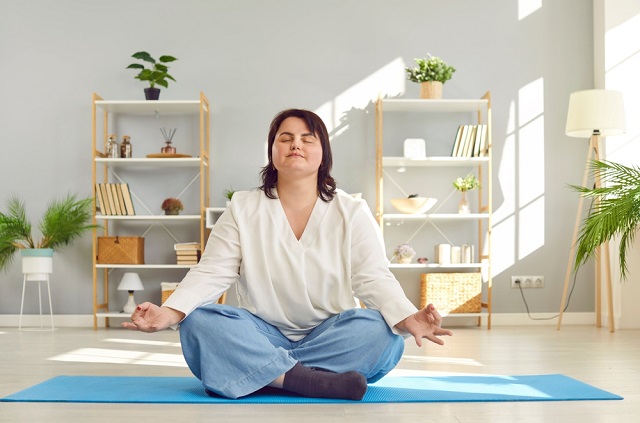 Emotional Regulation through Meditation
Embracing meditation as a powerful tool for addressing emotional eating habits is a transformative journey toward a more balanced and healthier relationship with food. Many of us turn to food to cope with stress, sadness, or boredom, using it as a comforting mechanism to ease emotional discomfort. In these moments, meditation offers a haven of emotional self-regulation. 
Through mindfulness and focused breathing techniques, meditation helps us become more aware of our emotions as they arise. It allows us to pause, observe, and acknowledge our feelings without judgment. By doing so, we can gain a deeper understanding of the emotional triggers behind our eating habits, and gradually, meditation equips us with alternative and healthier coping strategies.
Rather than relying on food as a means to soothe emotional distress, we learn to find solace and equilibrium within ourselves, fostering not only a more mindful approach to eating but also emotional well-being. In this profound intersection of meditation and emotional regulation, we discover a path to break free from the cycle of emotional eating and embark on a journey toward holistic wellness.
Meditation and Metabolism
Delving into the intricacies of the mind-body connection, we uncover the profound yet indirect influence of meditation on our metabolism. While meditation doesn't magically rev up our metabolic rate, it catalyzes several factors contributing to overall metabolic health. 
By reducing stress and promoting relaxation, meditation helps normalize hormonal balance, particularly cortisol levels, which can, when chronically elevated, contribute to weight gain and metabolic disturbances.
Additionally, meditation plays a vital role in enhancing the quality of our sleep, another critical aspect of metabolism. When we sleep well, our bodies are more efficient at burning calories and processing nutrients, leading to improved metabolic function.
These combined effects, fostered by the regular practice of meditation, set the stage for a healthier metabolic profile, offering a comprehensive and holistic approach to supporting both emotional and physical well-being in our weight management journey.
The Importance of Consistency and Patience
In the tumultuous journey of weight loss, the unwavering companions of consistency and patience are often the unsung heroes. While the desire for quick results can be alluring, it's essential to recognize that sustainable and holistic change is a gradual process that requires time and commitment.
Consistency in mindful eating, meditation, and physical activity is the cornerstone of success. It's the daily choices, the small yet persistent steps taken towards healthier living, that accumulate into meaningful, lasting transformation. Patience, on the other hand, is the guardian of our perseverance.
Weight loss isn't a race but a journey towards a healthier, happier self. Embracing patience allows us to navigate through setbacks and plateaus, recognizing that the road may be winding, but it's leading us in the right direction.
By understanding the value of consistency and patience, we lay the foundation for a sustainable, lifelong commitment to our well-being, where the ultimate prize is not just a desired weight but a profound, holistic transformation in our lives.
Conclusion: Can Meditation Help with Weight Loss?
Integrating meditation into your weight loss journey has the potential to be a transformative game-changer. By addressing the mind-body connection, reducing stress, and promoting mindful eating, meditation can support your efforts to shed those unwanted pounds. Remember, it's not just about losing weight; it's about fostering a healthier relationship with your body, food, and overall well-being. Embrace meditation as a tool to achieve holistic and sustainable weight loss.