The Science Behind Meditation Bells: Enhancing Your Mindfulness Practice
In the fast-paced world we inhabit, finding moments of tranquility and mindfulness become a crucial aspect of mental well-being. Meditation bells, with their myriad benefits, have emerged as a widespread practice to achieve this balance. Within meditation, an intriguing tool has gained attention for its ability to deepen the meditative experience – meditation bells. These seemingly simple instruments have a profound impact on the practice, connecting ancient traditions with modern science to enhance mindfulness.
As we delve into the science behind meditation bells, we embark on a journey that explores the synergy between sound, mind, and mindfulness. This article aims to unravel why these melodic chimes are more than just a pleasant accompaniment to meditation. By understanding the neurological and psychological aspects, we can understand how meditation bells contribute to a more profound and enriching mindfulness practice.
Join us as we explore the ancient wisdom and contemporary research that converge in the gentle tones of meditation bells, providing a harmonious blend of tradition and science for a truly transformative meditation experience.
Understanding the significance of meditation bells
Meditation bells, also known as singing bowls, are more than melodic companions in mindfulness practices—they are critical players in the journey to heightened awareness. Their gentle tones act as guides, swiftly ushering practitioners into a meditative state by providing a focal point for attention. This aligns seamlessly with the principles of mindfulness, emphasizing present-moment awareness and mental clarity.
Beyond their immediate role, these bells have rich historical and cultural significance. Rooted in traditions from Tibetan ceremonies to Japanese Zen practices, the use of sound in meditation has endured across cultures. Modern research delves into the impact of these tones on brainwave patterns, highlighting the neurological basis for the calming effects reported by practitioners.
In essence, understanding meditation bells involves recognizing their multifaceted role. They serve as conduits, connecting ancient traditions with contemporary science, and offering a holistic approach to cultivating a tranquil and focused mind. As we explore the science behind these melodious companions, we unveil layers of meaning, making meditation bells not just accessories but integral components for a more profound meditation experience.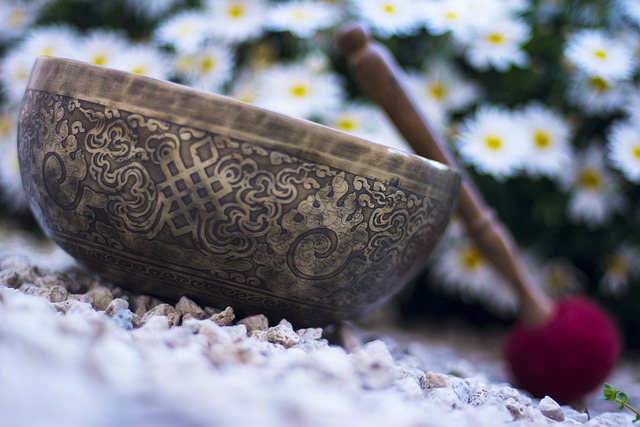 The scientific benefits of using meditation bells in your mindfulness practice
In mindfulness, utilizing meditation bells transcends tradition, with contemporary science shedding light on the tangible benefits of incorporating these melodic instruments into meditation practices.
Neurological Harmony: Modulating Brainwave Patterns
In the pursuit of mindfulness, the resonating tones of meditation bells play a pivotal role in influencing brain activity. Scientific studies indicate that these tones can effectively modulate brainwave patterns, ushering practitioners into relaxation and heightened focus. This neurological impact aligns seamlessly with the core principles of mindfulness, fostering a calm and attentive mental state.
Rhythmic Focus: Guiding the Mind into Tranquility
The rhythmic nature of meditation bells serves as a powerful external focus point. Amidst the challenges of a bustling environment, the rhythmic cues create a structured auditory framework, facilitating the mind's transition into tranquility. This structured focus proves especially beneficial for individuals seeking mindfulness amid a busy and potentially distracting world.
Stress Reduction: Calming the Mind and Body
Beyond its impact on brainwave patterns, the use of meditation bells has demonstrated a connection to stress reduction. The calming effect of the tones triggers the relaxation response, offering a tangible means to mitigate the physiological and psychological impacts of stress. This aligns with the broader understanding of mindfulness as a potent tool for stress management and overall well-being.
In essence, the scientific benefits of incorporating meditation bells into mindfulness practices showcase the intricate interplay between sound, the mind, and overall well-being. Grounded in research, these benefits validate the age-old practice of using melodic tones to enhance the meditative experience. As we explore the science behind meditation bells, we uncover a compelling fusion of ancient wisdom and contemporary understanding, enriching the landscape of mindfulness practices.
How meditation bells enhance focus and concentration
Meditation bells prove pivotal in pursuing mindfulness and heightened concentration, providing a sensory anchor that guides practitioners into a state of deep focus.
Sensory Anchoring: Focusing the Wandering Mind
One of the primary ways meditation bells enhance focus is by providing a sensory anchor. The resonating tones serve as a point of concentration, redirecting the mind away from distractions and fostering a deeper connection with the present moment. This sensory anchoring technique is particularly effective for individuals grappling with the challenges of a wandering or restless mind during meditation.
Rhythmic Entrainment: Syncing Mind and Sound
The rhythmic nature of meditation bell tones facilitates a process known as rhythmic entrainment. As individuals synchronize their breath and mental rhythm with the bell's tones, a harmonious resonance is established. This synchronization aids in creating a steady and focused mental state, allowing practitioners to align their cognitive processes with the rhythmic cues of the bells.
Temporal Structure: Establishing Mental Framework
Meditation bells contribute to the establishment of a temporal structure within the meditation session. The deliberate intervals between bell strikes create a natural rhythm, serving as markers for different phases of the practice. This temporal structure assists in organizing the meditation session, providing a clear framework that aids practitioners in maintaining focus and concentration throughout the practice.
In essence, enhancing focus and concentration through meditation bells involves the strategic use of sensory anchoring, rhythmic entrainment, and establishing a temporal framework. As practitioners engage with the meditative process guided by these melodious companions, they discover a pathway to a more profound and sustained state of concentration, further enriching the overall mindfulness experience.
The role of meditation bells in creating a peaceful ambiance
Within the tapestry of mindfulness practices, meditation bells emerge as artisans of a peaceful ambiance, weaving together ancient wisdom and contemporary understanding to sculpt a serene mental landscape.
Sonic Serenity: Crafting Tranquility through Melody
At the heart of the matter is the unique ability of meditation bells to sculpt sonic landscapes that resonate with tranquility. The gentle and melodic tones emitted by these bells create an auditory environment that transcends the mundane, ushering practitioners into a space conducive to relaxation and reflection. The harmonic qualities of the tones evoke a sense of calm, establishing the foundation for a peaceful inner sanctuary.
Cultural Reverberations: Echoes of Tradition
The role of meditation bells in creating a peaceful ambiance extends beyond their sonic properties to their cultural and historical significance. Rooted in diverse traditions, from Tibetan ceremonies to Japanese Zen practices, the use of bells in meditation carries echoes of ancient wisdom. The familiarity of these cultural reverberations adds a layer of comfort and grounding, contributing to the overall sense of peace and mindfulness cultivated during meditation.
Mindful Resonance: Aligning Internal Harmony
Meditation bells act as resonance chambers, not only externally but within the internal realms of the mind. The deliberate and measured tones resonate with the principles of mindfulness, encouraging practitioners to attune their internal rhythm to the external sounds. This alignment fosters a mindful resonance, where the mind and environment coalesce, creating a harmonious and peaceful ambiance that transcends the immediate surroundings.
In essence, the role of meditation bells in creating a peaceful ambiance is a symphony of sonic serenity, cultural reverberations, and mindful resonance. As these melodious companions guide practitioners into a tranquil space, they become integral architects of a serene mental landscape, where the journey towards mindfulness is harmonized with the gentle tones of ancient traditions and modern understanding.
Incorporating meditation bells into different meditation techniques
The versatility of meditation bells extends beyond their melodic allure, as they seamlessly integrate into various meditation techniques, enhancing the depth and efficacy of the practice.
Mindful Entry: Initiating Meditation with Presence
In mindfulness, the use of meditation bells serves as a mindful entry point into the meditative space. The gentle chimes mark the beginning of the practice, signaling a transition from the external to the internal. This initial auditory cue is particularly effective in grounding practitioners, allowing them to shed external distractions and commence their meditation with a focused and present mindset.
Breath Synchronization: Enhancing Breath Awareness
Meditation bells harmonize effortlessly with techniques emphasizing breath awareness. The rhythmic nature of the bell tones provides a natural cadence, guiding practitioners to synchronize their breath with the melodic cues. This synchronization not only deepens the connection with the breath but also establishes a rhythmic foundation for concentration, fostering a more immersive meditative experience.
Transitional Signposts: Navigating Meditation Phases
In structured meditation sessions, meditation bells act as transitional signposts, demarcating different phases of the practice. Whether signaling the transition from guided visualization to silent meditation or indicating the conclusion of a session, these deliberate auditory cues help maintain a sense of temporal structure. The result is a seamlessly guided meditation experience, where the subtle guidance of the meditation bells enhances the progression through various techniques.
Focal Point Enhancement: Deepening Concentration
For meditation techniques relying on a focal point, such as a mantra or visualization, meditation bells serve as enhancers. The gentle tones provide an additional focus layer, creating a dynamic interplay between the internal mental focal point and the external auditory stimuli. This deepens concentration, offering practitioners a multi-sensory approach to their meditation practice.
In essence, incorporating meditation bells into different meditation techniques is an artful integration of auditory cues with established practices. From initiating mindfulness to enhancing breath awareness and serving as transitional guides, these melodious companions become versatile tools, enriching the meditative journey with a symphony of mindfulness and sound.
Tips for choosing the right meditation bell for your practice
Selecting the right one is a personal and mindful choice, as it contributes significantly to the overall meditation experience. Here are some tips to guide you in choosing a meditation bell that resonates harmoniously with your practice:
Tone and Resonance: Listen Mindfully
When choosing a meditation bell, pay close attention to its tone and resonance. Each bell produces a unique sound, and the quality of the tone can profoundly impact your meditation experience. Take the time to listen mindfully to different bells, considering whether the tone is calming, clear, and resonates with you personally.
Material and Craftsmanship: Quality Matters
The material and craftsmanship of the meditation bell play a crucial role in its sound quality. Bells can be made from various materials such as brass, bronze, or crystal. Consider the craftsmanship and quality of the materials to ensure durability and a rich, clear tone. Well-crafted bells tend to have a more profound and sustained sound.
Size and Weight: Find the Right Fit
Meditation bells come in various sizes and weights. The size and weight of the bell can affect how it feels in your hand and the volume of the sound it produces. Experiment with different sizes to find one that feels comfortable and balanced. Remember that a heavier bell may produce a deeper and more resonant sound.
Intention and Symbolism: Connect with Meaning
Some meditation bells carry symbolic significance, reflecting the cultural or spiritual traditions from which they originate. Consider the intention behind the bell and whether it aligns with to your practice. Choosing a bell with symbolic meaning can add a layer of depth to your meditation, fostering a connection with the broader traditions of mindfulness.
Mindful Aesthetics: Visual Appeal
The visual aesthetics of the meditation bell can also contribute to the overall ambiance of your meditation space. Consider the design, color, and overall aesthetics of the bell. Choosing a bell that resonates with your sense of beauty and mindfulness can enhance the visual experience of your meditation practice.
Practical Considerations: Space and Portability
Consider practical considerations such as the available space in your meditation area and the portability of the bell. If you have a dedicated meditation space, you may opt for a giant bell with a commanding presence. For those who prefer portability, a smaller bell that can be easily transported may be more suitable.
In essence, choosing the right meditation bell involves a mindful exploration of tone, craftsmanship, size, symbolism, aesthetics, and practical considerations. As you embark on this selection journey, remember that the ideal meditation bell resonates not only with sound but also with the intentions and mindfulness of your practice.
Enhancing your mindfulness practice with meditation bells: A step-by-step guide
Embarking on a journey of enhanced mindfulness through meditation bells involves a thoughtful and step-by-step approach. Here's a guide to help you integrate the harmonious tones of meditation bells into your mindfulness practice:
Step 1: Set Your Intention
Start by setting a clear intention for your mindfulness practice. Consider what you aim to achieve—relaxation, focus, or a deeper connection with the present moment. Your intention will guide the entire meditation session and the role that the meditation bell will play in enhancing your experience.
Step 2: Choose the Right Bell
Select a meditation bell that resonates with you in tone and symbolism. Listen mindfully to the bell's sound, considering its tone, resonance, and the emotions it evokes. Additionally, if the bell carries cultural or spiritual significance, connect with its symbolism to add depth to your practice.
Step 3: Create a Serene Space
Prepare your meditation space to create a serene and focused environment. Arrange the space with intention, incorporating elements that contribute to a sense of tranquility. Place the meditation bell within easy reach, ensuring it becomes an integral part of your mindful sanctuary.
Step 4: Begin with Mindful Breathing
Commence your mindfulness practice with a few moments of mindful breathing. Center your attention on each breath, cultivating a sense of presence and awareness. This initial phase prepares your mind for the deeper immersion facilitated by the meditation bell.
Step 5: Introduce the Meditation Bell
As you settle into your breath, introduce the meditation bell at a natural pause in your practice. Allow the tones to ripple through your awareness, gently guiding your focus inward. The introduction of the bell serves as a transition into a more profound state of mindfulness.
Step 6: Harmonize Breath with Bell Tones
Sync your breath with the rhythmic tones of the meditation bell. Allow the cadence of your breath to harmonize with the melodic cues, deepening your connection with the present moment. This rhythmic entrainment enhances concentration and creates a tranquil mental space.
Step 7: Transition with Intention
Use the meditation bell to signify transitions within your mindfulness practice. Whether moving from breath awareness to a body scan or transitioning between different meditation techniques, let the bell serve as a mindful guide, punctuating each phase with intention.
Step 8: Conclude Mindfully
As your mindfulness practice nears its conclusion, allow the meditation bell to signal the gradual winding down of your session. The concluding tones can gently bring you back to awareness, providing a mindful conclusion to your meditation practice.
In essence, enhancing your mindfulness practice with meditation bells is a journey of intention, selection, and integration. By mindfully incorporating the harmonious tones of these bells into your practice, you create a symphony of mindfulness that elevates your experience and deepens your connection with the present moment.
Conclusion
In synthesizing ancient traditions and contemporary science, meditation bells emerge as more than cultural artifacts—they are gateways to a profound mindfulness experience. Scientifically, these resonating tones influence brainwave patterns, fostering relaxation and focus. Beyond neurological impacts, the rhythmic entrainment and cultural reverberations of meditation bells offer a holistic approach to mindfulness.
Embracing the science behind meditation bells opens doors to a more profound mindfulness experience. These simple yet powerful instruments, with their capacity to guide, calm, and center the mind, weave a symphony of mindfulness into daily life. With each resonating tone, practitioners find themselves connected to ancient wisdom and anchored in the present—a moment enriched by the science and tradition encapsulated within the gentle chimes of meditation bells.