Benefits of Meditation in Stress: Managing and Relieving Explore
In today's fast-paced and stress-filled world, finding moments of peace and tranquility can seem daunting. Benefits of Meditation in Stress is a powerful tool that can help manage and relieve stress, bringing a sense of calm and serenity back into our lives. This ancient practice has been utilized for centuries, and modern science now recognizes its benefits. By incorporating meditation into your daily routine, you can unlock many benefits for your mind, body, and soul.
Meditation has been proven to reduce stress levels, promote relaxation, and improve overall mental well-being. It helps to quiet the mind, allowing us to detach from the constant stream of thoughts and worries that often plague our daily lives. By focusing on the present moment and cultivating mindfulness, we can gain a greater sense of clarity and perspective, which in turn enables us to navigate better the challenges and pressures that life throws our way.
In addition to stress reduction, meditation has been shown to have a positive impact on physical health. It can lower blood pressure, enhance immune function, and even alleviate chronic pain. By taking the time to cultivate a regular meditation practice, you can tap into a deep well of inner peace and resilience, allowing you to better navigate the ups and downs of life with grace and ease. So, why not give meditation a try and experience the profound benefits it can bring to your life?
Understanding stress and its impact on mental health
Understanding stress and its profound impact on mental health is crucial in today's fast-paced world. Stress has evolved into an almost inescapable component of our daily lives, stemming from various sources such as work pressures, personal relationships, and external factors. This emotional and physiological response to demands or challenges can take a significant toll on our mental well-being.
Prolonged or chronic stress can lead to heightened levels of anxiety and depression, casting a shadow over one's emotional equilibrium. It's essential to recognize that stress isn't solely a mental burden; it also manifests physically, potentially leading to various health problems like high blood pressure and weakened immune function. 
Moreover, stress can erode our emotional resilience, making it difficult to navigate the complexities of life. Understanding the far-reaching impact of stress on mental health is the first step toward adopting strategies for stress management and emotional well-being.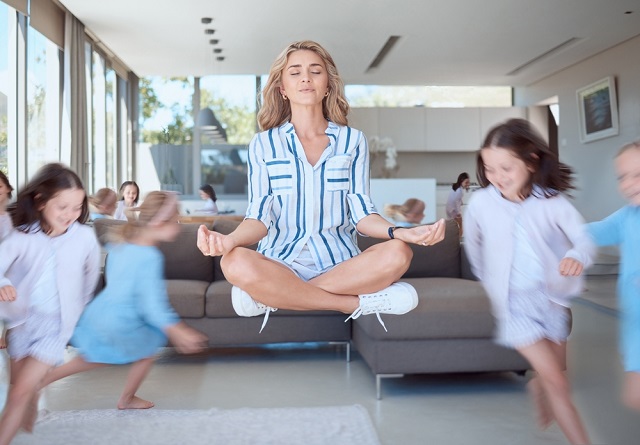 What is meditation and how does it work?
Meditation is a contemplative practice embraced by cultures worldwide for centuries, aimed at fostering mental clarity, emotional balance, and a deep sense of inner peace. At its core, meditation involves focused attention, often directed toward a specific object, thought, or breath. The process is about training the mind to become more present and aware. 
By consistently engaging in meditation, individuals can harness the brain's remarkable capacity known as neuroplasticity, which allows the brain to adapt and rewire itself. Through this practice, the brain undergoes significant transformations. Key regions, such as the prefrontal cortex, associated with impulse control and emotional regulation, strengthen. 
Moreover, meditation reduces the activity of the amygdala, the center of emotional reactions, leading to a more tranquil response to stress and emotions. Ultimately, meditation is an exploration of inner landscapes, a journey towards a greater understanding of one's thoughts, emotions, and the profound interconnectedness of mind and body.
The science-backed benefits of meditation for stress relief
A wealth of scientific research has illuminated the potent stress-reduction and relaxation-inducing qualities of meditation. Delving into the treasure trove of these studies unveils a compelling portrait of meditation's transformative effects on our mental and physical well-being. Take, for example, a noteworthy investigation published in the Journal of Clinical Psychology, where mindfulness meditation took center stage.
The results of this study were nothing short of remarkable, as they demonstrated that regular mindfulness meditation practices led to a significant reduction in symptoms associated with anxiety and depression. By cultivating a mindful approach to the present moment, individuals could effectively soothe the stormy seas of their minds and experience a profound sense of emotional balance.
Researchers at Harvard Medical School unearthed another illuminating gem in meditation research. Their study delved into the body's response to meditation, shedding light on how this ancient practice can activate the relaxation response. In a world where stress often reigns as a relentless adversary, the ability to trigger the relaxation response is akin to discovering an oasis amidst a desert. 
This mechanism counteracts the physiological effects of stress, offering respite to the body and mind. Through meditation, individuals can embark on a journey of self-soothing, enabling them to navigate the tumultuous currents of modern life with a newfound sense of serenity and equilibrium. In essence, these studies underscore the profound potential of meditation for enhancing emotional well-being and mitigating the toll that stress exacts on our lives.
Mindfulness meditation for stress management
Mindfulness meditation is a powerful technique for managing and relieving stress. It involves bringing full attention to the present moment, without judgment or attachment to thoughts or emotions. 
Locate a serene environment free from potential disruptions.
Sit comfortably and close your eyes or softly gaze at a fixed point.
Begin by focusing on your breath. Observe the feeling of your breath as it enters and exits your body.
As thoughts or distractions arise, gently acknowledge them and let them go. Bring your attention back to the breath. When thoughts or distractions appear, kindly recognize them and allow them to pass. Then, recenter your focus on the breath.
Expand your awareness to include your body sensations, sounds, and any emotions that may arise. Observe them without judgment.
Practice this for a few minutes daily and gradually increase the duration as you become more comfortable.
Different types of meditation techniques
An array of meditation techniques exists, each offering its distinctive approach and unique benefits. Here are a few popular ones:
1. Mindfulness meditation
This technique involves focusing on the present moment and observing thoughts and sensations without judgment. It helps cultivate a sense of awareness and acceptance.
2. Loving-kindness meditation
This practice entails cultivating emotions of love, compassion, and kindness towards oneself and others. It can help cultivate positive emotions and reduce negative feelings.
3. Transcendental meditation
This technique involves silently repeating a mantra to quiet the mind and achieve a state of deep relaxation and inner peace.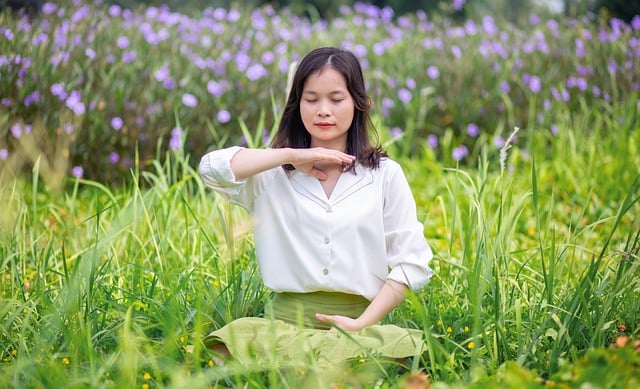 Tips for beginners to start a meditation practice
Starting a meditation practice can feel overwhelming for beginners.
1. Start small
Commence your meditation journey with a brief daily session, and incrementally extend the duration as you progress. Remember, it's the regularity of your practice that matters more than the length of each session.
2. Find a comfortable position
Choose a posture that promotes both relaxation and alertness. You may opt for a cross-legged position on a cushion, sit in a chair with your feet flat on the ground, or, if preferred, lie down to enhance your comfort during meditation.
3. Set realistic expectations
Understand that meditation is a practice, and it takes time to develop. Don't expect immediate results or a completely quiet mind. Instead, focus on the process and its benefits to your overall well-being.
4. Use guided meditation
If you're having trouble staying focused or need guidance, you can use guided meditation apps or resources. These provide step-by-step instructions and help you stay on track.
Meditation retreats and workshops for a deeper practice
Meditation retreats and workshops serve as sacred sanctuaries for those seeking a deeper, more profound meditation practice. These immersive experiences offer a respite from the hustle and bustle of daily life, providing a tranquil and supportive environment for individuals to explore the inner dimensions of their minds. Led by experienced teachers and guided by structured schedules, these retreats encourage participants to delve into extended periods of meditation and mindfulness practices, often marked by silence and self-reflection.
The retreat setting allows for a unique opportunity to unplug from the outside world, fostering a heightened state of self-awareness and mental clarity. Moreover, these workshops often encompass teachings and discussions on diverse aspects of meditation and mindfulness, enabling attendees to gain a richer understanding of the practices and their potential benefits.
The collective energy of like-minded individuals on a shared journey toward self-discovery and growth adds a profound dimension to these retreats, making them transformative experiences that resonate long after they conclude. In essence, meditation retreats and workshops offer a gateway to a more profound and enriched meditation practice, as well as a deeper connection with one's inner self.
Guided meditation apps and resources
If you're new to meditation or looking for guidance, there are many apps and resources available that offer guided meditation. Here are a few popular ones:
Headspace
This app offers a variety of guided meditations for different purposes, including stress reduction, sleep, and focus.
Calm
Calm provides guided meditations, sleep stories, and relaxing music to help you unwind and find inner peace.
Insight Timer
This app offers a wide range of guided meditations from various teachers and traditions. It also features a timer for silent meditation.
Incorporating meditation into your daily routine
To fully experience the benefits of meditation, it's important to make it a part of your daily routine. Set aside a specific time.
Find a time of day that works best for you and commit to a regular meditation practice. Whether it's in the morning, during lunch break, or before bed, consistency is key.
Create a peaceful environment
Find a quiet and comfortable space where you can meditate without distractions. You can use cushions or a meditation chair to support your posture.
Start with short sessions
If you're new to meditation, start with shorter sessions, such as 5-10 minutes, and gradually increase the duration as you become more comfortable.
Focus on your breath
A common technique in meditation is to focus on the sensation of breath. Pay attention to the inhale and exhale, and whenever your mind wanders, gently bring it back to the breath.
Conclusion: Benefits of Meditation in Stress
In conclusion, meditation is a powerful tool for managing and relieving stress. It has been proven to reduce stress levels, promote relaxation, and improve overall mental well-being. By incorporating meditation into your daily routine, you can tap into a deep well of inner peace and resilience, allowing you to better navigate the ups and downs of life with grace and ease. Why not give meditation a try and experience the profound benefits it can bring to your life? Start small, be consistent, and embrace the serenity that meditation can unlock.