8 Neurological Benefits of a Regular Meditation Practice
In today's fast-paced and chaotic world, finding moments of tranquility can feel like a luxury. Neurological Benefits, embracing a regular meditation practice can offer a profound escape from the noise and tension of everyday life. Not only does meditation help to calm the mind and reduce stress, but it also has a range of incredible neurological benefits.
Research has shown that meditation can reshape the brain, strengthening the areas responsible for emotional regulation, attention, and self-awareness. Regular practice has been linked to improved memory, enhanced focus, and reduced symptoms of anxiety and depression. Additionally, meditation activates the release of feel-good chemicals in the brain, promoting well-being and inner peace.
This article dives deep into the neurological benefits of a regular meditation practice, providing insights into how this ancient practice positively influences the brain. We explore the mechanisms behind these changes and share practical tips to help you incorporate meditation into your daily routine. From boosting cognitive function to rewiring neural pathways, discover how meditation can transform your mind and unlock a calm state amidst the chaos.
Understanding the neuroscience behind meditation
To gain a profound appreciation of meditation's transformative influence on the brain, it is imperative to delve into the intricate world of neuroscience that underlies this age-old practice. The human brain, often likened to the universe's most intricate and awe-inspiring cosmic web, is an intricately structured organ comprising billions of neurons.
These neurons are the elemental units of the brain, serving as the architects of cognition and the architects of thought. What makes the brain genuinely remarkable is its ceaseless activity, a cacophony of electrical signals ceaselessly zipping and sparking across the intricate neural pathways, forming a symphony of communication.
Meditation, as a practice that spans millennia, is not a mere passive observer in this intricate symphony of the brain. Instead, it assumes an active and transformative role. Through mindfulness and focused attention, meditation harnesses the inherent neuroplasticity of the brain, facilitating the sculpting and strengthening of neural networks. These are the conduits through which the benefits of meditation cascade into the cognitive and emotional realms.
Stress is a prevalent aspect of modern life, and its effects on the brain are well-documented. When we experience stress, the brain's amygdala, the center for emotional processing, becomes overactive, releasing stress hormones such as cortisol. Prolonged exposure to stress can harm the brain, impair cognitive function, increase anxiety, and even depression.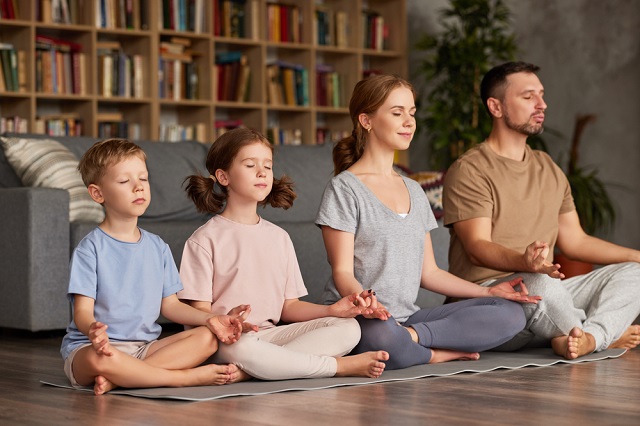 How meditation affects the brain
Meditation's influence on the brain is a captivating subject of scientific exploration and personal experience. When we engage in regular meditation, we embark on a transformative journey that leaves a profound mark on our neural architecture. Numerous studies have demonstrated that meditation can lead to structural and functional changes within the brain.
For instance, the practice has been linked to expanding gray matter in regions associated with self-awareness, emotional regulation, and attention, such as the prefrontal cortex and the hippocampus. Moreover, meditation fosters enhanced connectivity between different brain regions, facilitating more efficient communication and cognitive processing.
This heightened connectivity is particularly evident in the default mode network (DMN), responsible for mind-wandering and self-referential thoughts. Through meditation, the DMN becomes less active, leading to a quieter mind and reduced rumination. In addition, the amygdala, the brain's emotional center, shows reduced activity, indicating a diminished response to stress and emotional stimuli.
These neurological changes are associated with many cognitive and emotional benefits, including improved focus, heightened emotional resilience, and greater well-being. In essence, meditation is a powerful catalyst for positive brain adaptations, promoting greater harmony and balance within this complex and remarkable organ.
8 Neurological Benefits of a regular meditation practice
The advantages of integrating a consistent meditation practice into one's life transcend the immediate realm of stress reduction. While stress management is one of the most well-documented and widely recognized benefits of meditation, this ancient discipline unlocks a trove of remarkable neurological advantages that can profoundly enhance our mental and emotional well-being.
1. Enhanced Brain Plasticity
Meditation is a potent catalyst for brain plasticity, the brain's innate ability to rewire itself. Regular meditation fosters the growth and strengthening of neural connections, facilitating more adaptive and resilient cognitive functioning.
2. Improved Focus and Attention
One of the most celebrated neurological effects of meditation is its profound impact on attention and focus. The practice hones the prefrontal cortex, sharpening our ability to sustain concentration, resist distractions, and make informed decisions. This heightened focus ripples our daily lives, enabling us to engage with tasks more effectively and efficiently.
3. Emotional Regulation
Meditation enhances emotional regulation through its influence on the amygdala and prefrontal cortex. It equips individuals with a heightened awareness of their emotional responses, allowing for a more measured and balanced approach to challenging situations.
4. Stress Resilience
While stress reduction is the gateway to exploring meditation, its effects go beyond mere relaxation. Meditation cultivates resilience to stress by decreasing the production of stress hormones and promoting relaxation responses. It enables individuals to face life's challenges with greater equanimity.
5. Anxiety Reduction
By triggering the parasympathetic nervous system, meditation reduces anxiety and promotes a sense of calm. It provides a refuge from the relentless whirlwind of anxious thoughts and the tension that often accompanies them.
6. Enhanced Memory and Learning
Meditation, particularly mindfulness meditation, has been associated with improvements in memory and learning. It strengthens the hippocampus, the brain's memory center, and enhances our capacity to retain and retrieve information.
7. Self-Awareness
Meditation is a voyage of self-discovery, fostering a heightened sense of self-awareness. It enables individuals to understand their thoughts, emotions, and behaviors more deeply, ultimately contributing to personal growth and self-improvement.
8. Pain Management
Meditation can influence pain perception, enabling individuals to endure discomfort with more extraordinary fortitude. It activates the brain's pain-processing regions in a way that reduces the sensation of pain.
Improving focus and attention through meditation
In the fast-paced and technology-driven landscape of today, where incessant distractions abound, the art of sustaining focus and unwavering attention can often feel like an uphill battle. The ceaseless barrage of notifications, the endless stream of information, and the relentless pull of our digital devices make it increasingly difficult to concentrate on any single task.
Fortunately, meditation emerges as a beacon of hope amidst this modern chaos. It offers a sanctuary of tranquility and a path to sharpening our cognitive faculties, particularly emphasizing honing attention and focus. A groundbreaking study at the esteemed University of California, Santa Barbara, shed light on the remarkable benefits of meditation in this regard.
The research revealed that individuals who incorporated a regular meditation practice into their lives experienced substantial enhancements in their capacity to sustain attention and fortify their defenses against the constant siren calls of distraction. The implications of this study are profound, suggesting that in the quest for enhanced cognitive function, meditation stands as a powerful ally in navigating the tumultuous seas of the digital age.
Reducing anxiety and depression with meditation
Anxiety and depression, pervasive and often insidious mental health conditions, can cast a long shadow over an individual's overall well-being, profoundly impacting their quality of life. These emotional burdens can manifest as a constant, looming cloud, making daily existence an uphill struggle. Fortunately, the journey to healing and recovery doesn't always necessitate a pharmacological solution; it can be found in the serenity of meditation.
In a landscape where conventional treatments may not always suffice or may come with unwelcome side effects, meditation shines as a powerful, non-invasive tool for managing and alleviating the symptoms of anxiety and depression. A growing body of scientific evidence has unveiled the transformative potential of regular meditation practice in this realm.
One of its remarkable effects is the ability to dial down the persistent alarm bells of anxiety. This transformation occurs through activating the parasympathetic nervous system, which acts as the body's own reset button, inducing a state of tranquility and calm.
In essence, meditation becomes the sanctuary where the storms of anxiety dissipate, leaving behind a profound sense of relaxation and mental clarity, providing solace and hope for those navigating the challenging terrain of these mental health conditions.
Enhancing emotional regulation with meditation
Emotional regulation is a cornerstone in the edifice of mental well-being, a skill of paramount importance. Our capacity to effectively manage and modulate our emotions wields profound influence over the tapestry of our lives, impacting everything from the harmony of our relationships to the precision of our decision-making and ultimately shaping the contours of our overall happiness.
The delicate art of emotional regulation allows us to navigate the turbulent seas of life with grace and resilience. This skill has captivated the attention of researchers and psychologists alike. Scientific investigations have unveiled a fascinating link between meditation and enhancing emotional regulation.
At the heart of this connection lies the prefrontal cortex, a remarkable region of the brain entrusted with the duties of impulse control and emotional regulation. Through the prism of neuroscientific inquiry, meditation emerges as a potent catalyst in nurturing and strengthening the prefrontal cortex. This transformative process equips individuals with a more robust set of tools for self-regulation, akin to providing an upgraded set of sails to navigate the emotional waters of life.
Cultivating a sense of calm and well-being through meditation
Cultivating a profound sense of calm and well-being through meditation is a transformative journey that unfolds within the depths of one's consciousness. In our fast-paced and often chaotic world, meditation offers a sanctuary of tranquility, where the relentless noise of daily life can be silenced.
Through the gentle art of mindfulness and focused breathing, meditation allows us to anchor ourselves in the present moment, unburdened by the weight of past regrets or the anxiety of an uncertain future. As we delve into the meditative state, the mind gradually releases its grip on the ceaseless stream of thoughts, and we begin to observe our inner world with greater clarity. 
This heightened self-awareness brings a profound shift in perspective, enabling us to see our challenges and worries in a new light. By making space for stillness and inner peace, meditation becomes a powerful elixir for stress reduction, anxiety management, and emotional balance. It is through this practice that we uncover the wellspring of calm that resides within us, ultimately transforming the quality of our lives and our connection to the world around us.
Incorporating meditation into your daily routine
Now that we understand the incredible neurological benefits of meditation, it's time to explore practical tips for incorporating this practice into your daily routine.
Start with small steps
Begin by dedicating just a few minutes each day to meditation. As your familiarity with the practice grows, consider extending the duration gradually.
Find a quiet space
Select a serene and cozy environment, free from disturbances, where you can sit or recline comfortably. This could be a designated meditation room or a corner of your home.
Set a regular schedule
Consistency is vital when it comes to meditation. Set aside a specific daily time for your practice to establish a routine.
Experiment with different techniques
There are various meditation techniques to explore, such as mindfulness meditation, loving-kindness meditation, and transcendental meditation. Experiment with different approaches to find what resonates with you.
Seek guidance if needed
For those new to meditation, exploring guided sessions from experienced practitioners or utilizing meditation apps that offer structured guidance is advisable. This can help you establish a solid foundation and deepen your practice.
Conclusion
From reshaping the brain to promoting emotional regulation and enhancing cognitive function, regular meditation practice offers a multitude of neurological benefits. By incorporating meditation into your daily routine, you can create a sanctuary of calm amidst the chaos of modern life. Embrace the power of meditation and unlock the transformative potential it holds for your mind, body, and soul.
In a world that often feels chaotic and overwhelming, meditation provides a path to inner peace and tranquility. By understanding the neuroscience behind this ancient practice and incorporating it into our daily lives, we can harness the incredible power of meditation to transform our minds and unlock a state of calm amidst the chaos. So, take a deep breath, find a quiet space, and embark on a journey of self-discovery and neurological transformation through meditation.