The Power of Daily Meditation for Stress Reduction
In our ever-accelerating world, many remedies offer a helping hand, but few compare to the transformative effects of daily meditation. Welcome to The Power of Daily Meditation for Stress Reduction,' a soothing sanctuary offering practical advice and inspiration for harnessing inner peace.
This enlightening exploration of daily meditation uncovers its immense capacity to alleviate stress, transform perspectives, and enrich lives. Whether you're a frazzled professional seeking solace, a curious beginner dipping your toes, or even a seasoned practitioner looking to deepen your practice, this comprehensive guide is your key to unlocking a world of tranquility.
The power of meditation is not confined to monastic life or spiritual retreats. It is a valuable tool accessible to anyone, anywhere. Step in and experience the life-altering power of daily meditation: a sanctuary within that you can access anytime and a panacea for the stresses that plague our modern lives.
Understanding stress and its effects
Stress is ubiquitous in modern life, an unwelcome byproduct of an increasingly demanding, fast-paced world. For many, it manifests as a constant companion, lurking in the shadows of our minds, sapping energy, and undermining our well-being.
Stress is not merely a psychological affliction; it has a far-reaching physiological impact. It triggers the release of cortisol, the body's fight-or-flight hormone, which in excess can lead to a host of health issues such as heart disease, diabetes, weakened immune system, and mental health conditions like anxiety and depression.
Moreover, stress interferes with our cognitive functions, harming our ability to concentrate, make decisions, or think clearly. It can disrupt sleep patterns, leading to insomnia, fatigue, and reduced productivity, further adding to the cycle of stress. Chronic stress also affects our emotional well-being, leading to mood swings, irritability, feelings of overwhelm, and a diminished capacity to enjoy life.
Ironically, the same fast-paced world that catalyzes stress also offers a potent antidote – meditation. As ancient as human civilization, yet as relevant as ever, meditation is a powerful tool to alleviate stress and unlock tranquility amidst chaos. The following sections delve into the connection between meditation and stress reduction, backed by scientific evidence.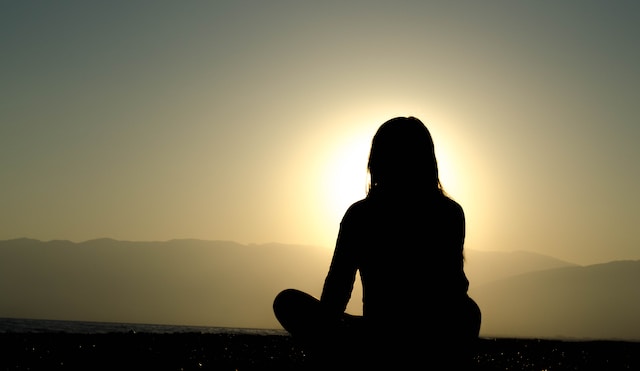 Benefits of daily meditation
The benefits of daily meditation extend far beyond stress reduction. Regular practice can improve mental clarity, focus, and creativity, enhance emotional intelligence, and boost overall well-being. It can foster a deeper connection with oneself and the world, leading to greater empathy, compassion, and interpersonal skills.
Moreover, meditation can promote better sleep, improve immune function, and even slow the aging process at a cellular level. It's a holistic tool for health and wellbeing, offering benefits that touch every aspect of life. Daily meditation can be transformative, whether seeking stress relief, personal growth, or a greater sense of peace and contentment. 
The connection between meditation and stress reduction
Meditation, in its essence, is the practice of mindful awareness and focused attention. It encourages a shift from a state of doing to a state of being, from the external to the internal, from the past and future to the present moment. This shift holds the key to stress reduction.
When we meditate, we deliberately turn inward, creating a space of tranquility amidst the noise of external stimuli. This process helps us detach from stress-inducing thoughts and emotions, fostering a sense of calm and peace. Moreover, meditation encourages a non-judgmental acceptance of the present moment, reducing anxiety about the future and regrets about the past, which are common stress triggers.
Importantly, meditation does not merely offer a temporary respite from stress. Regular practice can transform our stress response, enabling us to navigate stressful situations with more excellent stability and resilience. In the next section, we delve into the science behind these effects. 
The science behind meditation for stress reduction
Scientific research offers compelling evidence of the stress-reducing power of meditation. At the heart of these effects lies the influence of meditation on the brain. When stressed, the amygdala, often called the brain's "stress center," becomes hyperactive, triggering a cascade of stress responses. Meditation, however, has been shown to decrease amygdala activity, effectively dampening the stress response.
Furthermore, meditation enhances activity in the prefrontal cortex, a brain region associated with executive functions such as decision-making, attention, and emotional regulation. This shift in brain activity helps us manage stress more effectively, reducing its impact on our well-being.
Meditation also promotes physiological changes that counteract the harmful effects of stress. By triggering the relaxation response, it lowers heart rate, blood pressure, and cortisol levels, mitigating the health risks associated with chronic stress. As we move on, let's explore how to integrate daily meditation into your routine.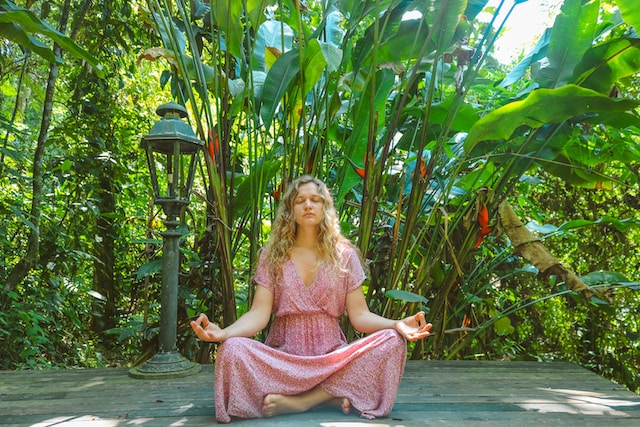 How to integrate daily meditation into your routine
Incorporating daily meditation into your routine can be a manageable task. Start small, with just a few minutes each day, gradually increasing the duration as you become more comfortable with the practice. Prioritize consistency over length; even a few minutes of daily meditation can yield significant benefits. 
Choose a quiet, comfortable space for your practice where you won't be disturbed. This could be a dedicated meditation space in your home or a calm office corner. Ensure that you are comfortable – you can sit on a chair, a cushion, or even lie down if that's more suitable. The key is maintaining a posture that lets you stay relaxed yet alert.
Some people find it beneficial to meditate first thing in the morning, setting a positive tone for the day. Others prefer to meditate at night to wind down before sleep. The best time to meditate is whenever you can consistently commit to it.
Techniques for effective meditation
There are myriad meditation techniques to explore, each with its unique benefits. A good starting point for beginners is mindfulness meditation, which involves focusing on the breath and observing thoughts and sensations without judgment. This practice fosters a heightened awareness of the present moment, reducing stress and promoting calm. 
Another effective technique is loving-kindness meditation, which involves cultivating compassion and love towards oneself and others. This practice can be especially helpful in alleviating stress related to interpersonal conflicts or self-critical thoughts.
You might also explore guided meditations, which can be particularly helpful for beginners. Guided meditations provide step-by-step instructions, often accompanied by soothing music or nature sounds, making the process easier and more enjoyable.
Common challenges and solutions in daily meditation
Integrating daily meditation into one's routine can pose challenges despite its benefits. One common hurdle is finding the time to meditate amidst a busy schedule. The solution lies in starting small, even just a few minutes each day, and gradually building up. It's more important to establish consistency than to meditate for long periods.
Another challenge is dealing with external distractions (like noise) or internal (like wandering thoughts). Rather than resisting these distractions, incorporate them into your practice. Acknowledge the distraction, then gently bring your focus to your breath or meditation object.
For some, the challenge is dealing with discomfort or restlessness during meditation. In such cases, adjusting your posture, taking a few deep breaths, or even taking a short break can be helpful. Remember, meditation aims not to achieve a perfect state of calm but to cultivate an attitude of acceptance and non-judgment.
Tools and apps to help with daily meditation
Many tools and apps can support your daily meditation practice in today's digital age. Apps like Headspace, Calm, and Insight Timer offer guided meditations, mindfulness exercises, and educational content to help you delve deeper into the practice. They also offer features like timers, reminders, and tracking, making integrating meditation into your daily routine easier.
In addition to apps, you might consider using a meditation cushion or chair for improved comfort, a mala or rosary for mantra meditation, or even a meditation bell or chime to mark the beginning and end of your practice. Remember, these tools are not necessities but aid to enhance your meditation experience. The only essential tool for meditation is your mind.
As we near the end, let's look at some of the best meditation techniques geared explicitly towards stress reduction.
Best meditation techniques for stress reduction
While all forms of meditation can contribute to stress reduction, some techniques are particularly effective.
Mindfulness-based stress reduction
Mindfulness-based stress reduction (MBSR), developed by Dr. Jon Kabat-Zinn, is a comprehensive program that combines mindfulness meditation, body awareness, and yoga to combat stress. Numerous studies attest to its efficacy in reducing stress and improving mental and physical health.
Transcendental meditation
Another powerful technique is transcendental meditation (TM), which involves the repetition of a specific mantra to achieve a state of restful alertness. TM has been shown to lower cortisol levels and blood pressure, linked to stress.
Progressive muscle relaxation
Progressive muscle relaxation, a technique that involves tensing and relaxing different muscle groups, can also help alleviate physical symptoms of stress. Coupled with mindfulness, this practice can foster a deep sense of bodily awareness and relaxation.
Conclusion
In conclusion, daily meditation holds immense potential for stress reduction. By fostering mindfulness, promoting physiological changes, and transforming our stress response, it offers a pathway to serenity amidst the chaos of modern life.
The journey of meditation is a deeply personal one. It's about carving out a sanctuary within, a space of tranquility that you can return to, anytime, anywhere. And as your practice deepens, so will your inner peace, resilience, and overall well-being.
Whether you're a stressed professional seeking solace, a curious beginner venturing into uncharted territory, or a seasoned practitioner looking to deepen your practice, daily meditation can unlock a world of tranquility. Embrace the practice, and let it transform your life, one breath at a time.