Meditation For Kids: Unlock the Hidden Power of Peaceful Little Minds
Meditation For Kids: In today's fast-paced and technology-driven world, it's becoming increasingly important to teach children the importance of slowing down, being present, and finding inner calm. Meditation has emerged as an effective tool to help kids cultivate mindfulness, reduce stress, and enhance their overall well-being. In this guide, we will explore the wonderful benefits of introducing meditation to kids and provide practical tips for getting started.
Through simple and age-appropriate techniques, meditation can help children develop essential skills such as focus, self-awareness, and emotional resilience. As they learn to center themselves and embrace the present moment, they become better equipped to handle the challenges and pressures of daily life.
With a calming and peaceful approach, we will delve into various meditation exercises and activities that can engage and captivate young minds. From visualization techniques to breath awareness exercises, each method is designed to make meditation accessible and enjoyable for kids of all ages.
So, if you're eager to embark on a journey of nurturing tranquility within your child's mind, join us as we unveil the secrets to introducing meditation to kids and unlocking a world of peace and well-being.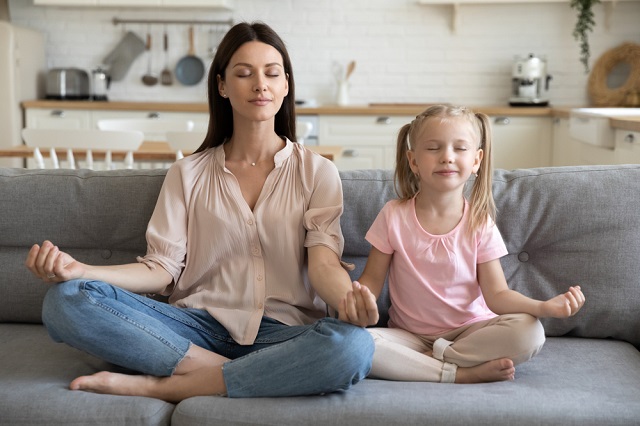 The importance of introducing meditation for kids
The importance of introducing meditation to kids cannot be overstated, as it offers a wide range of physical, mental, and emotional benefits that can positively impact their overall development and well-being. Here are some key reasons why teaching meditation to children is crucial:
1. Stress Reduction: Meditation helps children manage stress and anxiety by teaching them relaxation techniques. In a world filled with academic pressures, extracurricular activities, and social challenges, meditation provides a valuable tool for kids to calm their minds and find inner peace.
2. Emotional Regulation: Meditation encourages children to recognize and manage their emotions. It enables them to understand their feelings better and react to them in a healthy, constructive way. This skill can improve their relationships with others and their overall emotional intelligence.
3. Improved Concentration: Teaching meditation to kids can enhance their concentration and focus. With regular practice, children develop the ability to pay attention to tasks for more extended periods, which can lead to improved academic performance and better learning outcomes.
4. Enhanced Self-Awareness: Meditation promotes self-awareness by helping children become more in tune with their thoughts and emotions. It allows them to explore their inner world, understand their strengths and weaknesses, and build a positive self-image.
5. Better Sleep: Many children struggle with sleep issues, impacting their physical and cognitive development. Meditation can help improve the quality of their sleep by reducing racing thoughts and promoting relaxation, leading to a more restful night's sleep.
6. Reduced Impulsivity: Meditation teaches kids to think before they act. Promoting mindfulness encourages thoughtful decision-making and helps children avoid impulsive behavior. This can lead to better choices and fewer conflicts.
7. Increased Empathy: Meditation fosters empathy and compassion by encouraging children to connect with their own emotions and the emotions of others. It can promote a sense of caring, kindness, and a deeper understanding of different perspectives.
8. Stress Resilience: Teaching kids meditation equips them with tools to handle life's ups and downs more resiliently. It allows them to bounce back from setbacks and develop a more positive attitude toward challenges and failures.
9. Enhanced Physical Health: Meditation is associated with numerous physical health benefits, such as lower blood pressure, improved immune system function, and reduced muscle tension. These effects can contribute to a child's overall well-being.
10. Better Behavior in School: Children who practice meditation often exhibit improved behavior in the classroom. They are likelier to be attentive, respectful, and cooperative with their teachers and peers.
Benefits of Meditation for Kids
Meditation offers many benefits for children that can significantly impact their overall well-being. Firstly, it aids in reducing stress, helping kids navigate the challenges of school, family, and social life more easily. 
Meditation also improves concentration and focus, enhancing their ability to learn and perform academically. It fosters emotional regulation, enabling children to understand better and manage their feelings, resulting in improved relationships with peers and family members.
Additionally, meditation promotes better sleep patterns, a critical aspect of a child's growth and development. It encourages self-awareness, empathy, and resilience, equipping children with essential life skills that will serve them throughout their lives.
Overall, introducing meditation to children can lead to happier, healthier, and more well-rounded individuals better equipped to thrive in an increasingly complex world.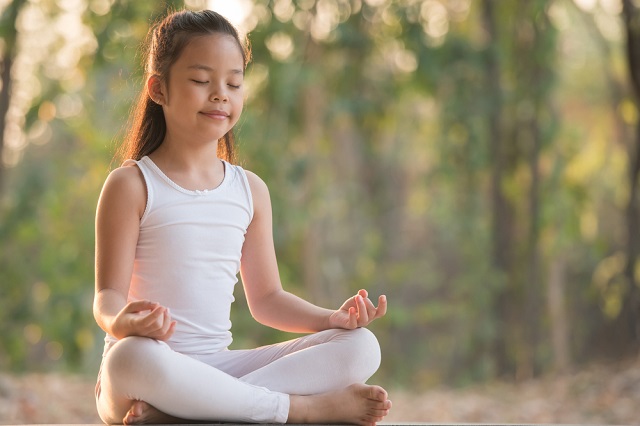 Understanding the basics of meditation
Meditation is a contemplative practice employed for thousands of years across various cultures and traditions.
Mindfulness and Awareness
Meditation is often synonymous with mindfulness, which involves paying complete attention to the present moment without judgment. It encourages individuals to observe their thoughts, emotions, and bodily sensations as they arise, fostering a deeper understanding of their inner world.
Breath Awareness
One of the most fundamental meditation techniques is concentrating on the breath. By observing the natural rhythm of their breath, individuals can anchor themselves to the present moment and create a sense of calm. This practice can be done in various ways, such as focusing on the rise and fall of the abdomen or the sensation of air passing through the nostrils.
Posture and Environment
Maintaining a comfortable and relaxed posture is crucial for meditation. Whether sitting cross-legged on the floor, on a chair, or lying down, the spine should be straight but not rigid. A peaceful and quiet environment with minimal distractions is preferable.
Consistency and Patience
Meditation demands patience and unwavering dedication to regular practice. It's not about emptying the mind but acknowledging thoughts and gently returning the focus to the chosen point of attention. Progress may be gradual, and the benefits become more pronounced with time.
Physical and Mental Benefits
Regular meditation has been associated with reduced stress, anxiety, and depression. It can enhance concentration, improve sleep, and boost mental and emotional well-being.
Cultural and Spiritual Significance
Meditation has deep roots in various religious and spiritual traditions, but it can also be practiced secularly for its mental and physical health benefits. Whether approached from a religious or secular standpoint, meditation offers a path to self-awareness and self-improvement.
Types of Meditation
There are numerous meditation techniques, each with its unique approach. Some popular types include:
Guided Meditation
In this form, a meditation guide or teacher provides verbal instructions to lead the meditator through the practice.
Transcendental Meditation (TM)
In TM, individuals repeat a specific mantra silently, which helps them transcend thought and experience more profound levels of consciousness.
Loving-Kindness Meditation
This practice involves generating feelings of love and compassion for oneself and others by silently repeating phrases or mantras.
Body Scan Meditation
This technique involves focusing on various body parts, often starting from the toes and moving upwards, to promote relaxation and body awareness.
How to create a peaceful meditation space for kids
Creating a peaceful meditation space for kids is a beautiful way to introduce them to the benefits of mindfulness and relaxation. Start by selecting a quiet and clutter-free area within your home, preferably away from distractions like electronics or heavy foot traffic.
Use soft, calming colors for the decor, and consider adding a comfortable cushion or mat for them to sit on. Incorporate elements that resonate with your child's interests, like gentle artwork, stuffed animals, or inspiring quotes.
Ensure that the lighting is soft and soothing, possibly with the option of dimming the lights. Encourage your child to participate in the decoration process, allowing them to choose items that make them feel comfortable and at ease.
Finally, maintain a consistent routine by designating specific times for meditation in the space. This way, your child will associate the area with peacefulness and serenity, making it a welcoming space for their meditation practice.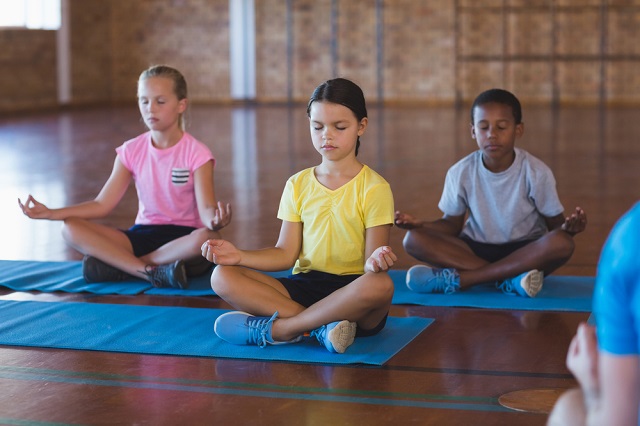 Age-appropriate meditation techniques for different age groups
Age-appropriate meditation techniques are essential to cater to individuals' unique needs and abilities at different stages of development. For young children (3-6 years), simple and playful techniques such as "belly breathing" or "mindful coloring" can be effective.
These activities encourage them to focus on their breath or coloring without overloading them with complex instructions. For kids aged 7-12, guided meditations, storytelling, or visualizations tailored to their interests can engage their imaginations and help them concentrate.
Teenagers (13-18) can benefit from more structured techniques like breath awareness or body scan meditations, which help them manage the stress and pressures of adolescence. As for adults, a wide range of meditation practices, from mindfulness to loving-kindness meditation, can be suitable depending on their experience and goals.
Tailoring meditation techniques to age-appropriate practices ensures that individuals of all ages can enjoy the numerous benefits of meditation in ways that resonate with their stage of life and level of understanding.
Tips for introducing meditation to kids
Introducing meditation to kids can be a rewarding and beneficial experience. To make it a positive and engaging endeavor, consider these tips.
First, keep it simple and age-appropriate, using language and techniques that align with a child's developmental stage. Make meditation fun and playful, framing it as a game or adventure rather than a chore. Incorporate their interests and preferences into the practice to maintain their engagement.
Consistency is vital, so establish a regular meditation routine that aligns with their daily schedule. It's essential to lead by example, so practice meditation together to create a supportive and encouraging environment. Be patient and understanding, as not all kids will immediately embrace the concept of meditation.
Lastly, offer praise and positive reinforcement for their efforts, helping them associate meditation with a sense of accomplishment and relaxation rather than pressure. By following these tips, you can introduce meditation to kids in a way that fosters their overall well-being and emotional development.
Incorporating meditation into daily routines and activities
Incorporating meditation into daily routines and activities can be a transformative practice, bringing a sense of mindfulness and calm to the busiest of lives. It begins with setting aside dedicated time each day, even if it's just a few minutes, for meditation. 
This can be done upon waking, during a lunch break, or before bedtime. You can also infuse mindfulness into everyday tasks, such as eating, walking, or commuting, by paying full attention to the present moment.
Additionally, meditation techniques like deep breathing or a quick body scan during moments of stress or overwhelm can provide immediate relief. Incorporating meditation into exercise routines, like yoga or tai chi, can enhance physical and mental well-being.
By weaving meditation into daily life, we not only experience moments of peace and clarity but also cultivate a mindset of presence and awareness that can positively influence our interactions and overall quality of life.
Resources for guided meditations for kids
Resources for guided meditations for kids are abundant, making it easy to introduce young ones to mindfulness and relaxation. Mobile apps like "Headspace for Kids" and "Calm Kids" offer a variety of guided meditation sessions specifically designed for children.
Online platforms such as YouTube and Insight Timer feature numerous free guided meditation recordings for kids of all ages. Books and audiobooks combine storytelling and meditation to engage young minds, like "Sitting Still Like a Frog" by Eline Snel or "Breathe Like a Bear" by Kira Willey. 
Teachers, counselors, and therapists specializing in mindfulness often provide resources and guided sessions tailored to kids, which can be valuable in a classroom or therapeutic setting.
With these resources, parents, caregivers, and educators have many tools to help children build emotional intelligence and resilience through meditation.
Overcoming challenges in teaching meditation for Kids
Teaching meditation to children can be a fulfilling endeavor, but it's not without its challenges. One common obstacle is children's natural restlessness and shorter attention spans. To overcome this, it's crucial to keep meditation sessions short, engaging, and age-appropriate, often incorporating playful and creative elements to maintain their interest.
Additionally, it can be challenging to find the right balance between structure and flexibility in teaching meditation. While some structure is necessary, children also benefit from the freedom to explore their inner worlds. Moreover, resistance from children who may initially find the practice boring or unfamiliar is common.
In such cases, patience and positive reinforcement are essential. Adapting meditation techniques to resonate with their interests, whether through storytelling or visualizations, can help create a sense of excitement.
Finally, it's crucial to remember that not all children will take to meditation immediately. Hence, a patient, non-coercive approach is essential, allowing them to discover its benefits at their own pace. Overcoming these challenges, while emphasizing the playful and adaptable nature of meditation, can make the practice a valuable and enriching part of a child's life.
Conclusion
Empowering children with the gift of meditation is a profound and transformative endeavor. It equips them with invaluable tools to manage stress, nurture emotional intelligence, and cultivate resilience early on.
Through age-appropriate techniques and a patient, engaging approach, meditation becomes a lifelong skill that fosters well-being, self-awareness, and a deeper connection with the present moment. It's a gift that can positively shape their lives, promoting inner peace and a strong foundation for personal growth.